Bagi para penggemar serial TV maupun film Kamen Rider mungkin sudah tidak asing lagi dengan Fumika Shimizu. Sosok aktris cantik yang satu ini namanya mulai menanjak di dunia entertaiment Jepang setelah memerankan karakter Yuki Jojima di lima serial film Kamen Rider yang berbeda antara tahun 2010 sampai tahun 2012.
Lahir pada tanggal 9 Desember 1994, di bawah manajemen Lespros saat ini ia sudah membintangi sembilan serial TV, dua anime, tujuh program TV dan enam belas film. Ini merupakan pencapaian yang luar biasa untuk seorang aktris muda yang baru berusia 22 tahun.
Fumika memulai debut dengan menerima penghargaan sebagai 'Good character' di Lespros Girls Audition tahun 2008. Di tahun 2009, ia memulai aktivitasnya di bawah naungan agensi artis lesPros dengan menjadi model khusus loveberry.
Kamen Rider OOO Wonderful: The Shogun and the 21 Core Medals di tahun 2011 menjadi awal mula dirinya masuk ke dalam dunia perfilman di Jepang. Sejak saat itu karirnya mulai naik dan bermain dalam serial drama seperti Riaru Onigokko The Origin tahun 2013 dan Petero no Souretsu yang tayang di TBS pada tahun 2014.
Tak ketinggalan beberapa film yang ia mainkan juga tayang di tahun 2017 seperti, Girls in the Dark dan Tokyo Ghoul. Selain itu ia juga berperan sebagai Hitomi Takashiro dalam serial drama Warau Manakineko yang akan tayang di TBS mulai bulan Maret 2017.
Mungkin itu akan jadi film dan serial drama terakhirnya, karena baru-baru ini, Fumika mengumumkan untuk pensiun dari dunia hiburan dengan alasan yang membuat para penggemarnya terkejut. Dia memutuskan untuk fokus ke Happy Science, sebuah gerakan keagamaan yang sudah diajarkan oleh orang tuanya sejak lahir.
Berikut profil tentang Fumika Shimizu: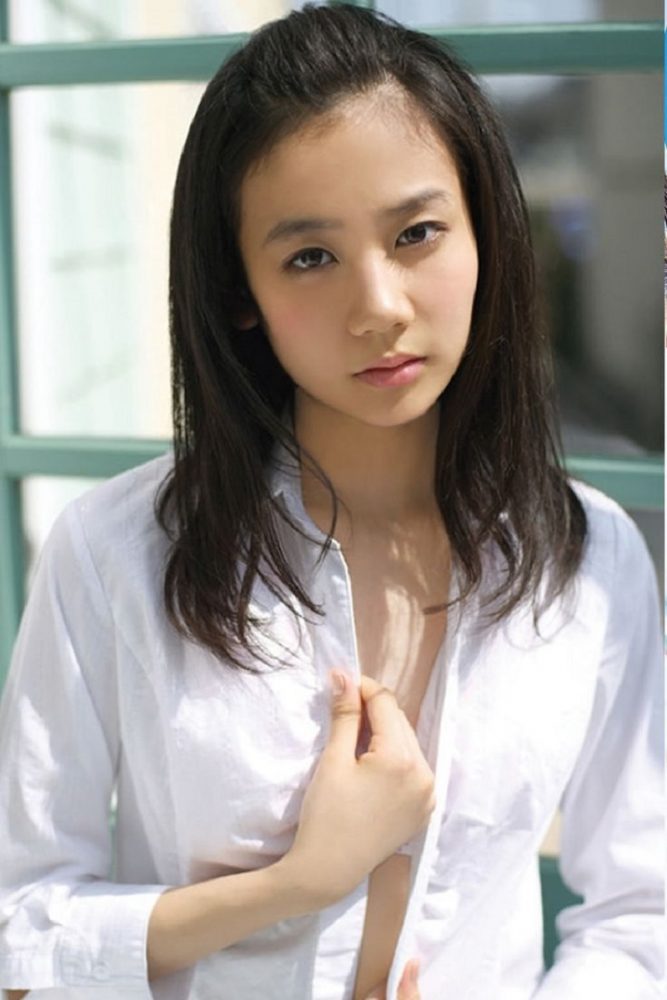 Nama: Fumika Shimizu
Profesi: Aktris dan model
Tanggal Lahir: 2 Desember 1994
Tempat Lahir: Tokyo, Japan
Tinggi: 163cm
Golongan Darah: A
Bintang: Sagittarius
Agensi: LesPros
| | | |
| --- | --- | --- |
| Judul | Kategori | Tahun |
| Kamen Rider OOO |  Drama | 2010 |
|  Kamen Rider Fourze |  Movie | 2011 |
| Kamen Rider OOO Wonderful: The Shogun and the 21 Core Medals | Movie | 2011 |
|  Kamen Rider × Kamen Rider Fourze & OOO: Movie War Mega Max | Movie | 2011 |
|  Kamen Rider × Super Sentai: Super Hero Taisen | Movie | 2012 |
|  Kamen Rider Fourze the Movie: Everyone, Space Is Here! | Movie | 2012 |
| Kamen Rider x Kamen Rider Wizard & Fourze Movie Taisen Ultimatum |  Movie |  2012 |
|  The Chasing World: The Origin | Drama |  2013 |
| Toshi Densetsu no Onna 2 (ep5) | TV Proggram | 2013 |
| | | |
| --- | --- | --- |
| Deep Red Love | Movie | 2013 |
| Seki Seki Ren Ren | Movie | 2013 |
| HK: Forbidden Super Hero | Movie | 2013 |
| Petero no Souretsu | Dorama | 2014 |
| Seijo | Dorama | 2014 |
| Mare | Dorama | 2015 |
| Dr. Storks (ep1) | Dorama | 2015 |
| Tonari No Seki-Kun To Rumi-Chan No Jishou | Dorama | 2015 |
| Okaasan, Ore wa Daijoubu | Dorama | 2015 |
| Kounodori | Dorama | 2015 |
| | | |
| --- | --- | --- |
| Zutaboro | Movie | 2015 |
| Ryuzo to Shichinin no Kobuntachi | Movie | 2015 |
| Happy Landing | Movie | 2015 |
| Kaseifu no Mitazono | Dorama | 2016 |
| Sutekina Sen Taxi Special | Dorama | 2016 |
| Sekai Ichi Muzukashii Koi | Dorama | 2016 |
| Mohouhan | Dorama | 2016 |
| Kaseifu no Mitazono | Dorama | 2016 |
| Zenin, Kataomoi | Movie | 2016 |
| HK2: The Abnormal Crisis | Movie | 2016 |
Warau Manekineko
Drama &
Movie
2017
Girls in the Dark
Movie
2017
Tokyo Ghoul
Movie
2017
(Featured image: kamenrider.wikia.com/wiki/Yuki_Jojima)
Sources :