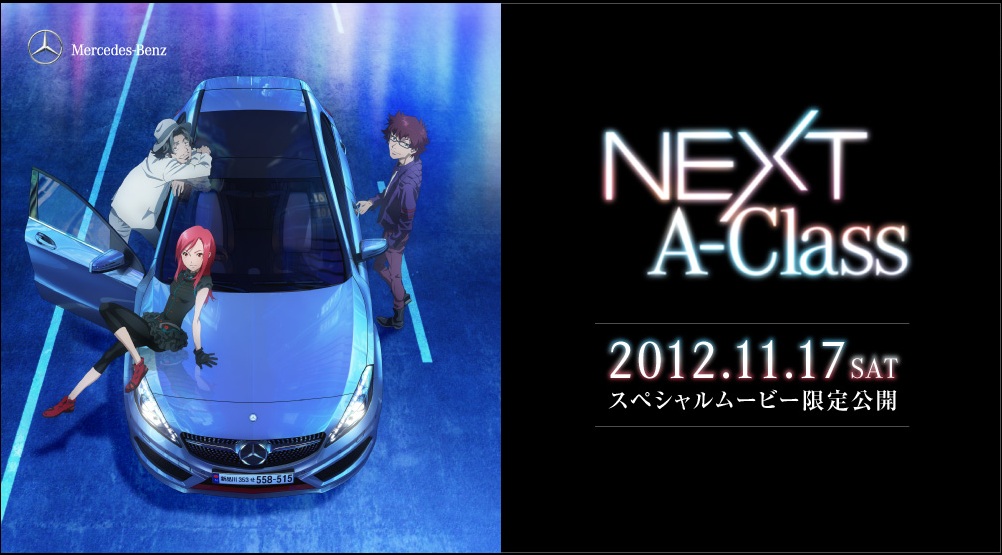 Studio anime Jepang Production I.G berkolaborasi dengan pembuat mobil mewah global Mercedes-Benz dalam sebuah anime pendek yang debut pada hari Sabtu tanggal 17 November lalu. Situs Jepang resmi untuk Mercedes-Benz akan menyajikan anime ini sebagai tie-in untuk kampanye Next A-Class sebagai generasi baru dari mobil ringkas.
Anime pendek berdurasi enam menit tersebut mengambil tempat di Tokyo di suatu masa depan. Tiga tokoh protagonis dalam anime ini diceritakan sedang mengejar target "tertentu" dengan kecepatan tinggi menggunakan mobil A-Class baru.
Mizuho Nishikubo (Musashi: The Dream of the Last Samurai, Zillion) menyutradarai anime ini dengan animator Kazuchika Kise (Ghost in the Shell, Neon Genesis Evangelion, Blood+). Yoshiyuki Sadamoto (Evangelion, The Girl Who Leapt Through Time, Summer Wars, Wolf Children) mendesain para karakternya, dan Kenji Kawai (Ghost in the Shell, Death Note, Gantz, Mobile Suit Gundam 00) menggubah musik untuk anime pendek ini.
Sebuah trailer untuk anime ini akan digunakan sebagai iklan komersial untuk televisi dan layar lebar. Selama balapan Fuji Sprint Cup 2012 mulai hari Jumat hingga Minggu, sebuah mobil SLS AMG GT3 akan dibungkus dengan art Next A-Class. Setelah anime pendek enam menit ini, Production I.G dan Mercedes-Benz berencana akan melanjutkan kerja sama mereka pada bulan Desember dan seterusnya.
Di bawah ini adalah anime pendek berdurasi enam menit tersebut.
[youtube http://www.youtube.com/watch?v=EQq6Z4IowfY]
source : animeanime.jp via animenewsnetwork.com
video : crunchyroll.com