Dalam episode terbaru dari The Simpsons, "Treehouse of Horror XXV", kita dapat melihat para anggota keluarga Simpsons berpakaian seperti beberapa karakter anime!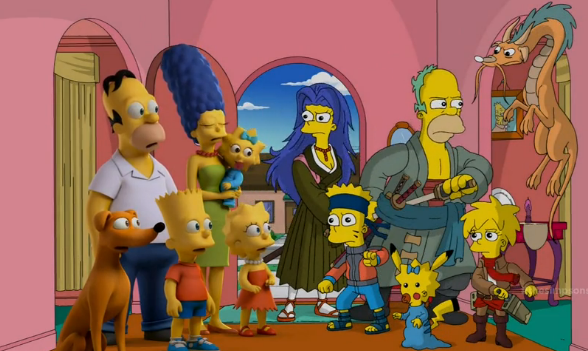 Adegan ini ditemukan dalam segmen ketiga dari episode tersebut yang memparodikan film "The Others". Kita dapat melihat Homer sebagai Roronoa Zoro dari One Piece, Marge Simpson sebagai Rangiku Matsumoto dari Bleach, Bart Simpson sebagai Naruto Uzumaki dari Naruto, Lisa Simpson sebagai Mikasa Ackerman dari Attack on Titan, dan Maggie Simpson sebagai Pikachu dari Pokemon.
Segmen ini juga menampilkan para anggota keluarga Simpsons diburu oleh hantu Simpsons yang asli seperti yang terlihat di Tracy Ullman Shorts dan versi claymation dari para anggota keluarga Simpsons.
Source : orendsrange.com