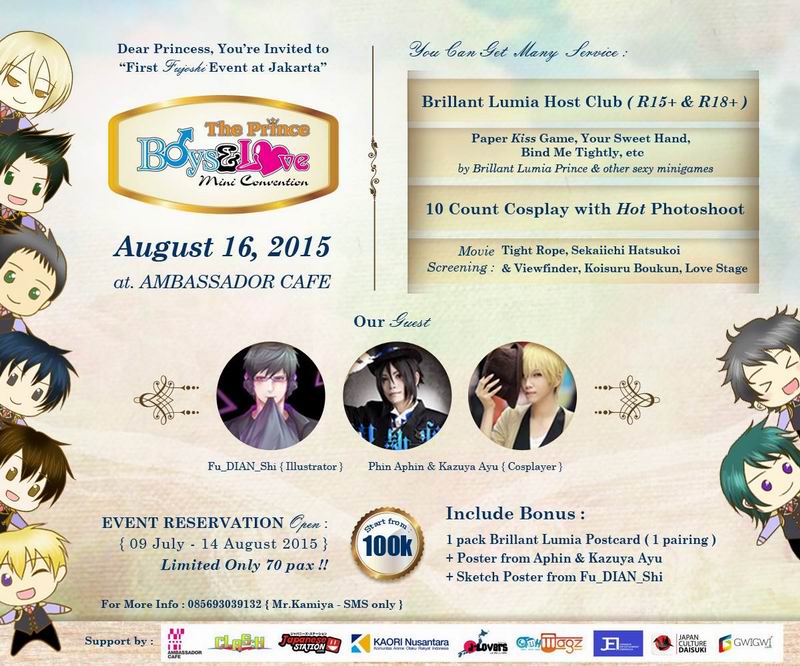 Minna, tanggal 16 AGUSTUS 2015 datang yuk ke acara The Prince Boys and Love Mini Convention!
The Prince Boys and Love Mini Convention adalah sebuah acara yang dibuat untuk Boys Love fans khusus perempuan yang dikenal dengan sebutan fujoshi yang pertama kali diadakan di Jakarta, konsep acaranya sendiri berupa mini convention atau mini gathering dengan kehadiran tamu special dan hostclub.
Acara ini diadakan tanggal 16 AGUSTUS 2015, bertempat di Ambassador Café, Bulungan, Jakarta
Konten acaranya adalah:
1. Brillant Lumia Host Club
Merupakan host club dengan konsep boys love service dan tema bangsawan yang elegan. "Prince" adalah sebutan untuk host-nya, merupakan yang pertama kalinya dengan tema tersebut. Ada 8 orang (4 pasang) host pria yang akan melayani para princess yang berkunjung. Para hostnya akan memberikan Fanservice Games di mini stage pada saat event berlangsung. Page: https://www.facebook.com/blhostclub
2. OV Anime Screening
Tight Rope OVA I & OVA II, Koisuru Boukun OVA 1 & OVA 2, Sekaiichi Hatsukoi OVA 1 & 2, Viewfinder OVA 1 dan Love Stage OVA 1
3. Guest Cosplayer: Aphin & Kazuya
Mereka akan cosplay BL photoshot dari manga "10 Count"
4. Guest Illustrator : Fu_DIAN_Shi
Talkshow seputar Boys Relationship dan Doujin Illustration
Event ini terbatas untuk umum dan hanya untuk wanita berumur 15+ dengan reservasi terbatas hanya 70 pax saja. Harga reservasi dengan rincian berikut: Premium Seat: Rp. 150.000, Reguler Seat: Rp. 125.000, dan Window Seat: Rp. 100.000.
Info lebih lanjut: https://www.facebook.com/theprinceindobl
Jangan lupa ya, catat tanggalnya, kosongkan jadwal kalian, dan ajak teman-teman kalian untuk datang ke acara ini!