Pada tanggal 10 Juli, aktor Takeru Sato (25 tahun) dan aktris Emi Takei (20 tahun) menghadiri sebuah acara untuk film "Rurouni Kenshin: The Great Kyoto Fire" dan "Rurouni Kenshin: The End of a Legend" mengenakan yukata musim panas.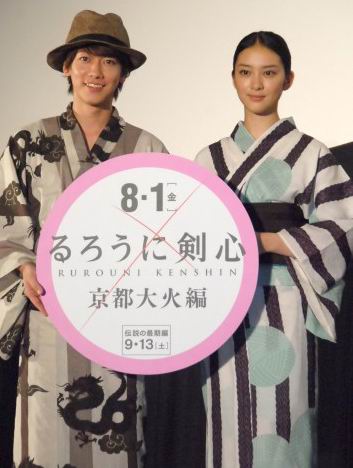 Yukata yang dikenakan Takei menampilkan motif bola mari besar. Sato dengan riang menggoda lawan mainnya di depan pers dengan menyebutnya sebagai 'yukata kubis'. "Yukata kubis, itu sesuatu yang baru. Betapa imutnya," katanya sambil bercanda, yang membuat Takei menggembungkan pipinya dan berkata, "Kamu kejam…"
Sato (yang memerankan karakter utama Kenshin Himura) juga mengingat kembali tentang sekitar 30 lokasi di mana film sekuel "Rurouni Kenshin" difilmkan, yang menyatakan bahwa dari berbagai lokasi tersebut, Kumamoto adalah yang paling menonjol dalam ingatannya. "Maskot Kumamon dengan bekas luka berbentuk tanda X datang [ke lokasi syuting]," jelasnya, menghibur konferensi pers tersebut dengan menggambarkan bekas luka dari pertempuran milik Hitokiri Kumamon.
"Rurouni Kenshin: Kyoto Inferno" diputar di berbagai bioskop Jepang pada tanggal 1 Agustus, yang diikuti oleh "Rurouni Kenshin: The Legend Ends" pada tanggal 13 September.