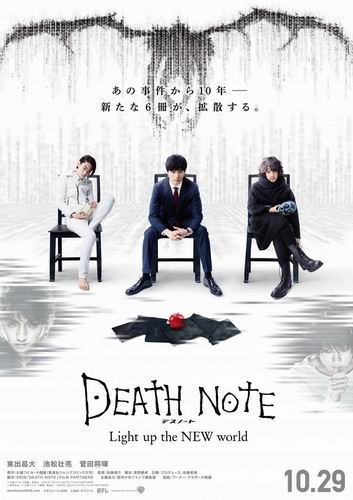 Film Death Note 2016 yang dibintangi Masahiro Higashide, Sosuke Ikematsu, Masaki Suda dan Erika Toda telah mengungkap poster dan judul lengkapnya, yaitu Death Note: Light Up The New World. Film yang disutradarai oleh Shinsuke Sato ini akan dirilis di Jepang tanggal 29 Oktober 2016 mendatang. Film yang diadaptasi dari manga karya Tsugumi Ohba dan Takeshi Obata ini turut dibintangi oleh Rina Kawaei dan Mina Fujii.
Seperti dikutip dari asianwiki, film Death Note: Light Up The New World berlatar waktu 10 tahun setelah pertarungan antara Kira dan L. Di Wall Street di Amerika Serikat, Shibuya di Jepang, dan di berbagai tempat lainnya terjadi pembunuhan masal yang disebabkan oleh Death Note. Selain itu di seluruh dunia juga tersebar virus komputer yang dinamakan Kira yang berisi pesan untuk menyerahkan keenam Death Note yang ada di bumi. Persaingan antara mereka yang ingin membangkitkan Kira dan mereka yang ingin menghentikannya pun terjadi.
Penasaran dengan film ini?
Source : asianwiki.com