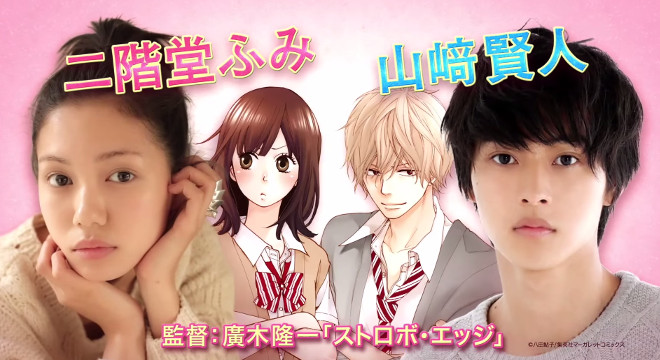 Menyusul kabar tentang Fumi Nikaido dan Kento Yamazaki yang membintangi film live-action Wolf Girl and Black Prince ("Okami Shojo to Kuro Oji"), kini para pemeran tambahan untuk film tersebut telah diumumkan, yaitu Riria Kojima sebagai karakter bernama Namie, Rena Takeda sebagai Mayu, dan Ikumi Hisamatsu sebagai Miho. Film yang akan dirilis di Jepang pada bulan Mei 2016 ini dibuat berdasarkan manga berjudul sama karya Ayuko Hatta.
Seperti dikutip dari sumikai.com, film live-action Wolf Girl and Black Prince berkisah tentang Erika Shinohara (Fumi Nikaido) dan Kyouya Sata (Kento Yamazaki). Erika menggunakan foto seorang pemuda untuk berbohong dan diakui sebagai pacarnya pada teman-temannya. Namun, ternyata pemuda itu satu sekolah dengannya dan pemuda itu menggunakan kelemahannya sehingga Erika harus membuat perjanjian dengannya agar kebohongannya tidak diketahui teman-temannya.
Ada yang sudah membaca manga-nya?
Source : sumikai.com