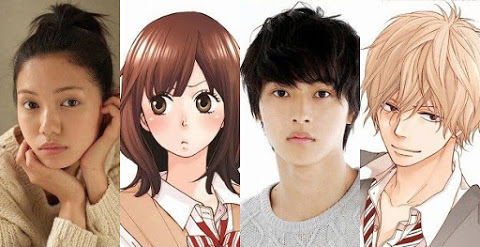 Film live-action baru berjudul Wolf Girl and Black Prince ("Okami Shojo to Kuro Oji") yang dibuat berdasarkan manga berjudul sama karya Ayuko Hatta, telah mengungkap para pemeran utamanya, yaitu aktris Fumi Nikaido dan aktor Kento Yamazaki. Film yang disutradarai oleh Ryuichi Hiroki ("Vibrator"/"Yellow Elephant") ini proses syutingnya akan dimulai pda bulan Desember tahun ini dan akan dirilis di Jepang pada bulan Mei 2016.
---
---
Seperti dikutip dari Asian Wiki, film live-action Wolf Girl and Black Prince akan membawa Fumi Nikaido berperan sebagai seorang siswi SMA yang berbohong pada teman-temannya tentang pacar yang tidak dimilikinya. Saat teman-temannya mulai meragukan ceritanya, ia melihat seorang pria yang tampan di jalan dan memotretnya secara diam-diam. Sambil menunjukkan foto-foto "pacarnya" pada teman-temannya, ia mengetahui bahwa pria itu juga satu sekolah dengannya.
Hmm, nampak seru juga ya, kita tunggu saja tanggal pemutarannya!
Source : asianwiki on m.google