Hatsune Miku mungkin sudah dikenal sebagai suara dengan satu gambaran tapi diva virtual ini kini menjadi salah satu ikon budaya pop Jepang yang sangat diakui dan icon ini akan mendapatkan pamerannya sendiri di dalam Yoshihiro Yonezawa Memorial Library di Universitas Meiji di Tokyo.
Pameran ini akan berjudul "Jumping Across Dimensions, the Passion of  Making Hatsune Miku Materialize" dan akan menampilkan malaikat virtual tersebut dalam berbagai wujud fisik, bentuk dan ukuran dari berbagai figure PVC-nya, figma dan nendoroid hingga berbagai CD, buku dan merchandise Miku lainnya.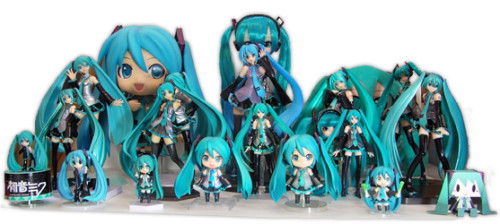 Pameran ini juga akan menampilkan papier-mâché Miku berukuran besar serta Miku Robot unit 1 seukuran life-size – lengkap dengan peluru kendalinya!

Karena Miku adalah keajaiban teknologi, berbagai perangkat akan digunakan untuk menghidupkannya selama pameran. Printer 3D, layar-layar AMID/POLID dan Oculus Rift semuanya akan disediakan bagi para penggemar dengan cara yang unik untuk berinteraksi dengan diva malaikat dunia maya tersebut.
Pameran ini juga akan menampilkan para cosplayer Hatsune Miku, sebuah acara cosplay slide show Miku dan talk show yang didedikasikan untuk Miku.
Universitas Meiji juga mencari penggemar berat Miku yang bisa hadir dan menampilkan "Miku altars" mereka untuk pameran ini. Para penggemar juga dapat mengirimkan Miku hasil karya mereka sendiri dari kostum cosplay buatan rumahan hingga ke garage kit. Namun para penggemar yang ingin mengirimkan kreasi dan altar mereka harus mengikuti pedoman Piapro seperti yang diposting di link ini : http://piapro.jp/license/character_guideline
Para cosplayer Miku juga bisa mengirimkan foto cosplay mereka sendiri, tetapi juga harus mengikuti pedoman Piapro. Aplikasi untuk altar, karya-karya Miku buatan penggemar dan slide show foto-foto cosplay dapat disampaikan melalui e-mail ke: [email protected]
Pameran ini akan diselenggarakan dari tanggal 31 Januari 2014 sampai dengan 1 Juni 2014.
Source : sgcafe.com