Berita Jepang | Japanesestation.com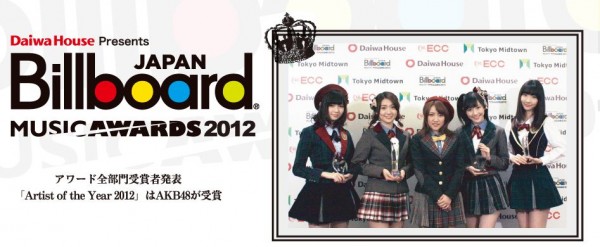 Pada tanggal 15 Desember, Billboad Jepang mengumumkan pemenang dari gelaran penghargaan Billboard JAPAN Music Awards 2012.
Billboard Jepang mulai membuat ajang festival penghargaan ini pada tahun 2009 silam. Terdapat dua bagian dalam penghargaan ini: Artist Awards yang membuat nominasi dari para artis yang telah menduduki posisi puncak Billboard Charts sepanjang tahun, dan para pemenangnya dipilih dari voting melalui telpon genggam dan internet ditambah dengan poin yang didapat dari charts mingguan. Bagian lain adalah Chart Awards yang diberikan kepada lagu-lagu yang berhasil menduduki peringkat puncak dalam chart tahunan genre mereka masing-masing.
Hadiah utama adalah penghargaan Artist of the Year, dan tahun ini penghargaan tersebut jatuh kepada grup idol AKB48! Telah dua tahun berturut-turut AKB48 menerima penghargaan bukan hanya Artist of the Year namun juga penghargaan untuk Top Pop Artist, Hot 100 of the Year, dan Hot Singles Sales of the Year.
Di bawah ini adalah daftar para pemenang dari Billboard JAPAN Music Awards 2012.
ARTIST AWARDS
Artist of the Year 2012
- AKB48
Top Pop Artist 2012
- AKB48 - Mr. Children - Arashi - EXILE - Amuro Namie
Jazz Artist of the Year 2012
- Norah Jones
Classic Artist of the Year 2012
- Tsujii Nobuyuki
Animation Artist of the Year 2012
- Mizuki Nana
Independent Artist of the Year 2012
- Golden Bomber
Active Artist of the Year 2012 presented by Daiwa House
- BIGMAMA
New Artist of the Year 2012
- Ieiri Leo —–
CHART AWARDS
Hot 100 of the Year 2012
"Manatsu no Sounds good!" – AKB48
Top Album of the Year 2012
"Mr. Children 2005-2010
" – Mr. Children Hot Top Airplay of the Year 2012 "Good Time" – Owl City and Carly Rae Jepsen Hot Singles Sales of the Year 2012 "Manatsu no Sounds good!" – AKB48 Digital & Airplay Overseas of the Year 2012 "Good Time" – Owl City and Carly Rae Jepsen Hot Animation of the Year 2012 "Ikiteru Ikiteku" – Fukuyama Masaharu Adult Contemporary Airplay of the Year 2012 "Happy Pills" – Norah Jones Top Jazz Albums of the Year 2012 "MOVE" – Uehara Hiromi The Trio Project Top Classical Albums of the Year 2012 "Kokyuu suru Piano" – Matsui Sakiko Top Independent Albums & Singles of the Year 2012 "The beginning" – Ayaka Top Overseas Soundtrack Albums of the Year 2012 "Disney Date ~Koe no Oujisama" – Disney   source : billboard-japan.com via tokyohive.com