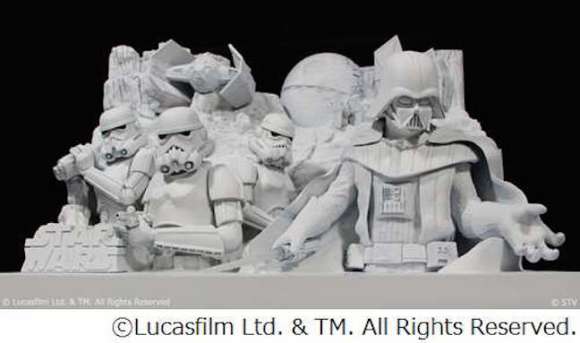 Sapporo Snow Festival tahunan yang diselenggarakan di prefektur paling utara di Jepang telah memuaskan para wisatawan dan penduduk lokal selama lebih dari enam dekade. Setiap tahun, para seniman dari seluruh dunia diundang untuk memamerkan bakat mereka dalam membangun berbagai struktur besar dari es dan salju.
Untuk memperingati perilisan ke tujuh dari seri Star Wars, The Walt Disney Company telah berkolaborasi dengan para pejabat festival tersebut untuk merancang apa yang terlihat sebagai patung salju skala besar yang paling epik, yang menampilkan versi salju berukuran besar dari Darth Vader, tiga Storm Troopers, sebuah TIE fighter, dan Death Star.
Para pejabat Sapporo Snow Festival baru-baru ini mengumumkan kolaborasi tersebut, yang menandai patung salju berskala besar pertama yang dilisensi oleh Lucasfilm. Desainnya akan dibuat segera dibuat dalam beberapa waktu untuk ulang tahun ke-66 festival tersebut, yang dijadwalkan berlangsung dari 5 Februari hingga 11 Februari 2015.
Darth Vader, dengan lightsaber di tangannya, berdiri di garis depan dalam desainnya, di sampingnya ada tiga Stormtroopers, dengan senapan blaster. Di latar belakangnya, sebuah TIE fighter dan Death Star terlihat secara legendaris dengan penuh rincian. Dan jika para karakter ikonik itu belum cukup memberi petunjuk, huruf "Star Wars" akan diukir di sudut bawahnya.
Star Wars: Episode VII – The Force Awakens akan diputar di berbagai bioskop Jepang tanggal 18 Desember 2015; dan para penggemarnya tentu akan senang melihat patung salju dengan proporsi epik ini terpasang di sana!
Source : en.rocketnews24.com