Kadang, saat sebuah film asing masuk ke negara tertentu, judul film tersebut terpaksa harus diubah karena satu dan lain hal. Entah karena judul asli dianggap kurang menjual untuk masyarakat di negara tersebut, kesulitan untuk diucapkan dalam bahasa setempat, dan alasan-alasan lainnya. Begitu juga dengan Jepang. Sebagai negara yang memiliki bahasa yang khas, tak sedikit judul film asing yang diubah agar lebih mudah diterima oleh penduduk setempat. Terkadang judul terjemahan tersebut tak jauh beda dengan judul aslinya, namun ada juga yang melenceng terlalu jauh . Saking jauhnya, tak sedikit judul-judul tersebut yang akhirnya malah mengundang tanya, bahkan tawa.
Berikut ini beberapa judul film asing dan versi bahasa Jepangnya yang disarikan dari RocketNews24.
1. Napoleon Dynamite → Bus Man (バス男)
2. You Only Live Twice → 007 Dies Twice (007は二度死ぬ)
3. Despicable me → Mysterious Thief Gru's Moon Theft 3D (怪盗グルーの月泥棒 3D)
4. Bring It On → Cheers! (チアーズ!)
5. Fast and Furious → Wild Speed Max (ワイルド・スピード MAX)
Tambahan untuk judul lain dalam seri ini:
The Fast and the Furious → Wild Speed
2 Fast 2 Furious → Wild Speed X2
The Fast and the Furious: Tokyo Drift → Wild Speed X3 TOKYO DRIFT
Fast & Furious → Wild Speed MAX
Fast Five → Wild Speed MEGA MAX
Fast & Furious 6 → Wild Speed EURO MISSION
6. Being John Malkovich → Malkovich's Hole (マルコヴィッチの穴)
7. Freaky Friday → Fortune Cookie (フォーチュン・クッキー)
8. Karate Kid → Best Kid (ベスト・キッド)
9. Ferris Bueller's Day Off → Ferris, Suddenly One Morning (フェリスはある朝突然に)
10. The Manchurian Candidate (1962) → The Sniper Without a Shadow (影なき狙撃者)
11. The Manchurian Candidate (2004) → Crisis of America (クライシス・オブ・アメリカ)
12. Ratatouille → Remy's Delicious Restaurant (レミーのおいしいレストラン)
13. Up → Grandpa Carl's Flying House (カールじいさんの空飛ぶ家)
14. Frozen → Anna & The Snow Queen (アナと雪の女王)
15. Robot & Frank → A Lovely Partner: Old Man Frank & His Robot Helper (素敵な相棒 フランクじいさんとロボットヘルパ)
16. Jersey Girl → I Love My Father the Best in All (世界で一番パパが好き!)
17. The Butler → The Tears of The President's Butler (大統領の執事の涙)
18. Army of Darkness → Captain Supermarket (キャプテン・スーパーマーケット)
19. Evil Dead II → Guts of the Ghost 2 (死霊のはらわたII)
20. Apocalypse Now → Apocalypse of Hell (地獄の黙示録)
21. Final Destination 3 → Final Deadcoaster (ファイナル・デッドコースター)
22. The Constant Gardener → Nairobi Bees (ナイロビの蜂)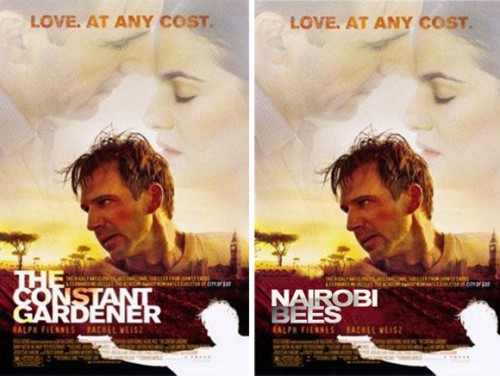 Itu baru sebagian judul yang bisa ditemukan. Bagaimana menurut pendapat kalian?
Sources :