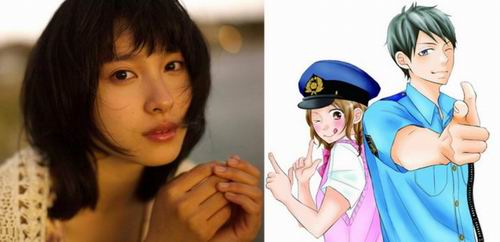 Telah diumumkan bahwa Kazuya Kamenashi dari grup KAT-TUN dan Tao Tsuchiya akan menjadi pemeran utama dalam film live-action "P and JK" yang akan diluncurkan tahun depan pada musim semi 2017 di berbagai bioskop di Jepang. "P and JK" merupakan adaptasi dari manga shoujo karya Maki Miyoshi, yang diserialisasikan di majalah manga Bessatsu Friend Sejak 13 Desember 2012. Film yang proses syutingnya dimulai pada bulan Juni mendatang dan selesai pada bulan Juli nanti ini disutradarai oleh Ryuichi Hiroki, yang sebelumnya pernah mengarahkan film Strobe Edge.
Seperti dikutip dari asianwiki.com dan sumikai.com, dalam film ini Tao Tsuchiya berperan sebagai Kako Motoya, seorang siswi kelas 1 SMA berumur 16 tahun. Sedangkan Kazuya Kamenashi berperan sebagai Kota Sagano, seorang petugas polisi berumur 23 tahun. Kako belum memiliki pacar dan pada suatu hari ia mengaku sebagai seorang mahasiswi untuk ikut ambil bagian dalam kencan berkelompok. Di sana ia bertemu dengan Kota dan jatuh cinta padanya. Namun, Kota akhirnya mengetahui bahwa Kako masih pelajar SMA dan perilakunya pada Kako pun berubah.
Bagaimanapun, Kota adalah seorang polisi dan meskipun ia mencintai Kako, tapi ia tahu bahwa ia tidak bisa bersamanya. Kako kemudian terluka ketika mencoba untuk melindungi Kota. Kota lalu bertanya padanya apakah Kako ingin menikah dengannya, karena itulah satu-satunya cara agar bisa bersamanya sebagai seorang polisi. Pada awalnya ayah Kako menentang hubungan mereka, dan hanya akan setuju dengan pernikahan tersebut jika mereka menjaga rahasia pernikahan meski harus berbohong pada semua orang di sekitar mereka.
Nampak seru nih ceritanya, berminat menontonnya?
Sources :