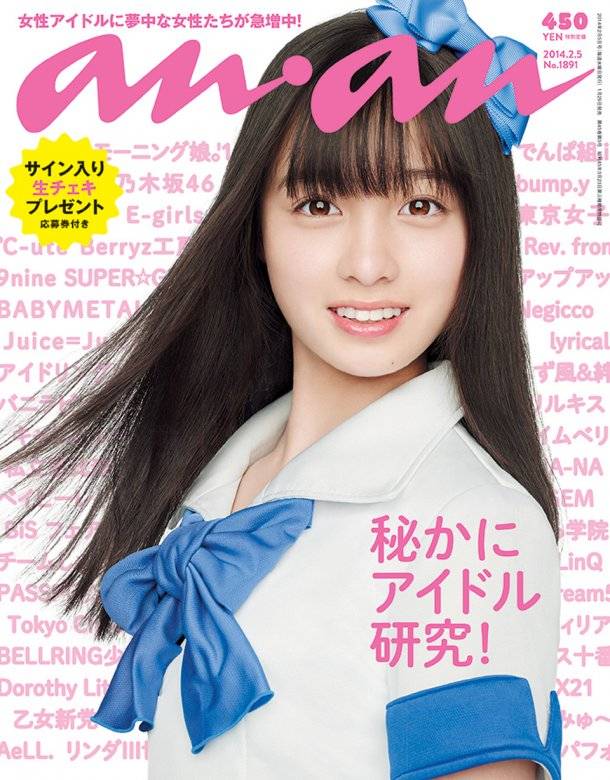 Edisi 29 Januari dari majalah Jepang "anan" (Vol. 1891) membawakan para pembacanya 62 halaman khusus yang menampilkan para idol wanita berjudul, "Hisokani Idol Kenkyu!". Gadis sampul untuk edisi ini adalah gadis yang baru-baru ini disebut-sebut sebagai "idol yang muncul sekali dalam 1000 tahun", Hashimoto Kanna.
Menampilkan berbagai idol group termasuk Morning Musume '14, E-girls dan lebih banyak lagi, edisi ini juga berisi wawancara Shinoda Mariko tentang kelulusannya dari AKB48. Selanjutnya, segmen "Girls' favorite idol groups Best 5" memperkenalkan berbagai idol group seperti 9nine, Nogizaka46, C-ute, BABYMETAL, dan Tokyo Girls' Style.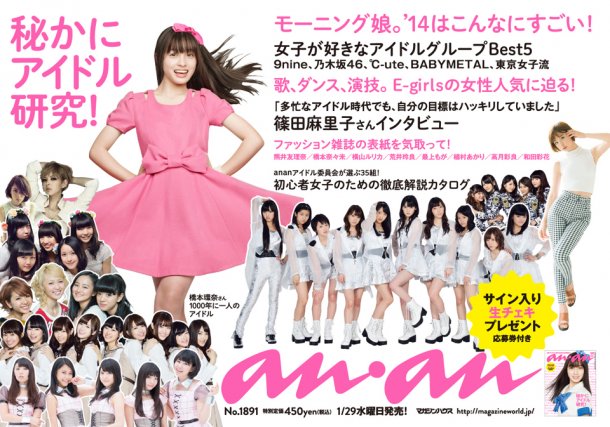 Akan ada juga fitur khusus berjudul "As if you are the cover of a fashion magazine!" di mana Mogami Moga (dari Dempagumi.inc), Kumai Yurina (dari Berryz Kobo), Hashimoto Nanami (dari Nogizaka46), dan lebih banyak lagi lainnya turut muncul, sementara lebih dari 35 grup lainnya termasuk Negicco, Himekyun Fruits Can dan Berryz Kobo diperkenalkan di "Complete manual catalogue of female idols for the beginner girls". Termasuk berbagai grup di mana beberapa anggotanya tampil dalam majalah ini, edisi ini berisi total sebanyak 54 idol group.
Selanjutnya, para produser dan koreografer seperti Tsunku, Takenaka Natsumi, Mofuku-chan dan Kobayashi Tsukasa juga diwawancarai.
Sources :