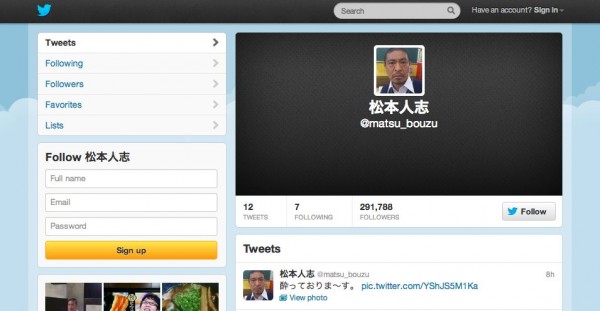 Pada 4 Mei kemarin, dua komedian Downtown`s Matsumoto Hitoshi akhirnya membuka akun Twitternya dengan akun @matsu_bouzu . Dan terlihat dia sangat menikmatinya dengan men tweet foto nya dengan sang partner Hamada Masatoshi, "Inilah Gorila saya". Dan dia pun men tweet fotonya dengan menggunakan celana dalam saja!
Di waktu yang sama, Ameagari Kesshitai's Hotohara Toru (@kappa3kyodai), Summers' Mimura Masakazu (@hentaimimura) and Otake Kazuki (@taketakeyakiimo), and Kyaeen's Amano Hiroyuki (@1ribottiamano) dan Udo Suzuki (@udoudodonguri) pun membuka akun twitter mereka.
Para komedian ini akan tampil di acara TBS Variety Show "LINCOLN", beberapa netizen menduga bahwa aktifitas baru di twitter akan berujuk ke program baru mereka ini.
Source: Nikkan Sports
Image: Matsumoto Hitoshi's Twitter