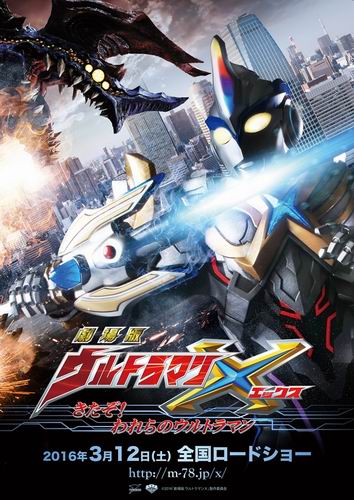 Tanggal 12 Maret 2016 yang akan datang, film layar lebar baru berjudul Gekijyouban Ultraman X: Kitazo! Warera no Ultraman (Ultraman X The Movie: Here Comes! Our Ultraman) akan dirilis di Jepang. Kabar ini diumumkan kemarin melalui website resmi dari serial tokusatsu Ultraman X yang saat ini masih tayang di Jepang. "Beta Spark Armour," yang memiliki kekuatan tertinggi yang baru, akan dikenakan oleh Ultraman X dalam film ini.
Dilkutip dari crunchyroll.com, lagu tema untuk serial TV Ultraman pertama yang pernah ditayangkan di Jepang pada tahun 1966-1967, yang berjudul "Ultraman no Uta" (The Song of Ultraman), memiliki lirik bertuliskan "Kitazo! Warera no Ultraman," dari situlah judul film Ultraman X ini berasal. Tanggal 12 Desember nanti akan dirilis pengumuman kedua yang mengungkap rincian lebih lanjut tentang film ini.
© TSUBURAYA PRODUCTIONS Co., Ltd.
Source : crunchyroll.com