Berita Jepang | Japanesestation.com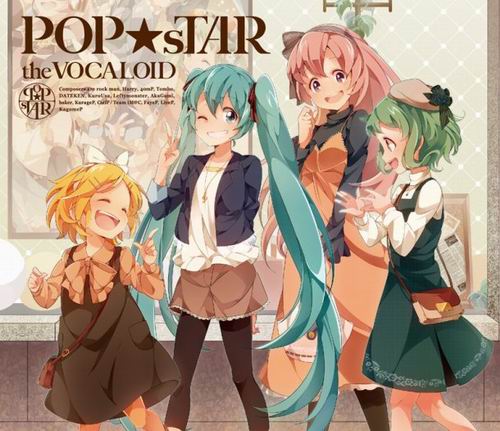 "VOCALOID RECORDS", label ahli Vocaloid dari Yamaha Music Communications, Jepang, akan merilis album kompilasi "POP☆sTAR the VOCALOID" pada tanggal 19 Desember 2012.
"POP☆sTAR the VOCALOID" merupakan album kompilasi Vocaloid yang menampilkan berbagai lagu pop, rock, lagu sedih, lagu gembira, lagu berbasis cerita, dll. Album ini akan menampilkan berbagai Vocaloid, seperti Hatsune Miku, Kagamine Rin, Megurine Luka dan GUMI. Para musisi yang turut berpartisipasi di dalamnya diantaranya ada baker, 40mP, LiveP, CielP, dll. Cover art untuk album ini dilukis oleh Umiko dari Pixiv.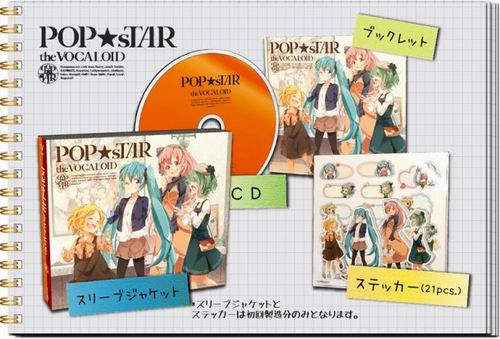 Tracklist 1 . Yakusoku no Tane 40mP feat. GUMI 2 . Souvenir Fei-P feat. Hatsune Miku 3 . S.K.Y LiveP feat. Kagamine Rin 4 . Rainbow Color Butterfly Kurousa-P feat. Hatsune Miku 5 . Saigo no Yoru no Kirin Kurage-P feat. Hatsune Miku 6 . celluloid baker feat. Hatsune Miku 7 . *tear* DATEKEN feat. Kagamine Rin, Kagamine Len 8 . Hoshiai Lefty Monster-P feat. GUMI 9 . HEAVEN harrycloverP feat. Hatsune Miku 10 . Re:present CielP feat. Megurine Luka 11 . Plastic Tombo feat. V3 GUMI (Sweet) 12 . Monochro Night Aru P feat. Hatsune Miku Append (Dark) 13 . CLAP HIP CHERRY Junky feat. GUMI
(Source: natalie.mu, vocadb.net, ofurotaimu.dreamwidth.org)