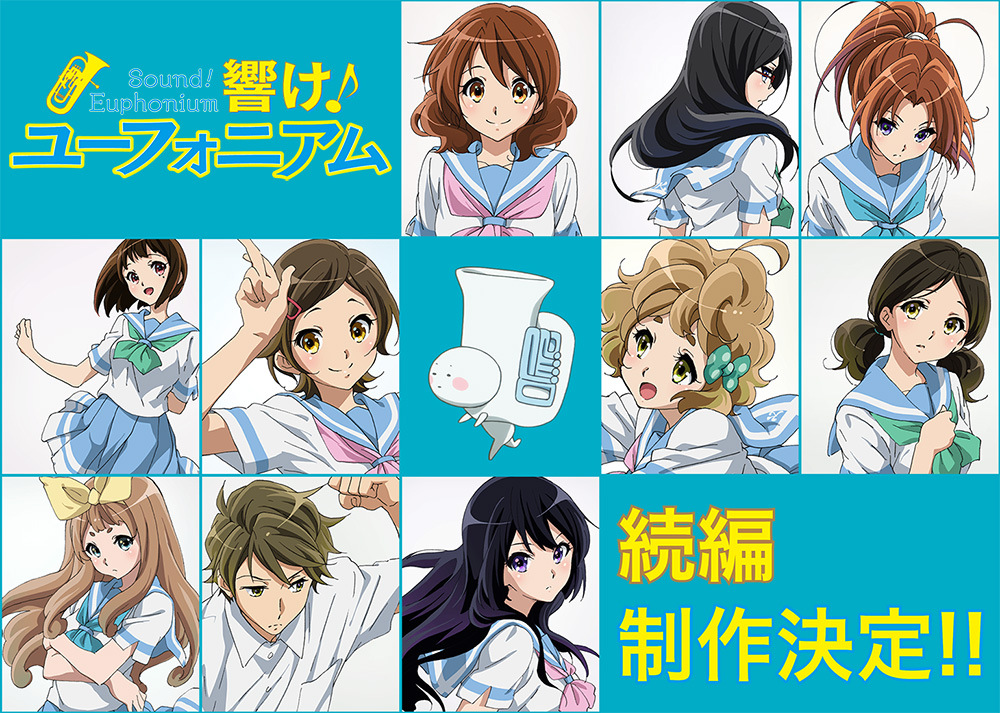 Lewat realisme, desain karakter, animasi, penyutradaraan, karakterisasi, musik, dan practically semua elemen di dalamnya, Hibike! Euphonium sukses membuat Mimin jatuh cinta dan menobatkannya sebagai salah satu anime spring 2015 favorit Mimin (dan bahkan masuk dalam daftar anime favorit sepanjang masa deh, rasanya… – membuat diri sendiri nggak percaya kalau Mimin bisa nggak keberatan sama 'yuri bait' yang dibuat 'seanggun' ini). Dan, kalau kalian juga sesama fans anime produksi Kyoto Animation ini, ada kabar gembira untuk kalian!
Disampaikan dalam Kyoto Animation & Animation Do Fan Event, adaptasi novel berseri karya Ayano Takeda dan Nikki Asada ini akan berlanjut ke season 2 dan juga akan dibuatkan sebuah movie. Berjudul Gekijouban Hibike! Euphonium: Kitauji Koukou Suisougaku Bu e Youkoso (Sound! Euphonium the Movie: Welcome to the Kitauji High School Concert Band), film ini berformat recap yang akan menceritakan ulang kisah 13 episode serial anime-nya hingga Kumiko, dkk sampai pada kompetisi concert band se-perfektur. Sementara, season keduanya akan melanjutkan kisahnya setelah kejadian tersebut.
Lantas, ilustrator Nikki Asada menggambar sketsa perayaan atas pengumuman ini.
Sambil menunggu info selanjutnya, berikut adalah PV bonus OVA Hibike! Euphonium yang akan dirilis bersama dengan Blu-ray dan DVD volume ke-7-nya pada 16 Desember mendatang.
Source : otakutale.com