Film baru berjudul Cheer☆Dance, yang akan rilis di berbagai bioskop Jepang pada bulan Maret 2017 mendatang akan menampilkan Suzu Hirose sebagai pemeran utamanya. Film garapan sutradara Hayato Kawai ini memiliki judul lengkap yang cukup panjang, yaitu "Cheer☆Dance ~ A True Story of High School Girls' Journey to the Top in America ~", yang dalam bahasa Jepang berjudul "Chia☆Dan ~Joshi Kosei ga Chia Dansu de Zenbei Seiha Shichatta Honto no Hanashi~".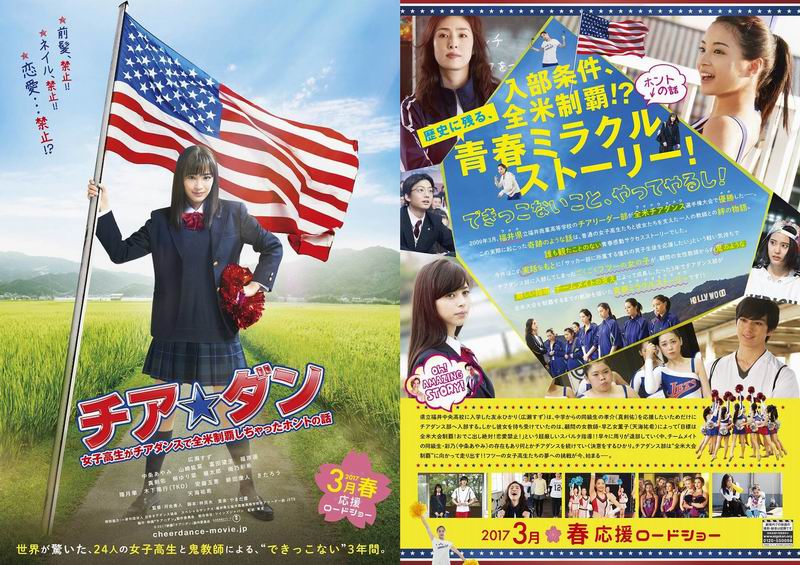 Dikutip dari berbagai sumber, dalam film ini Suzu Hirose berperan sebagai Hikari Tomonaga, seorang siswi SMA yang berencana bergabung dengan klub cheerleader (pemandu sorak) di sekolahnya. Namun setelah melihat aturan ketat yang diberlakukan oleh Kaoruko Saotome (diperankan oleh Yuki Amami), seorang pelatih yang tegas dari klub tersebut, Hikari pun berubah pikiran. Tapi Hikari lalu memutuskan untuk bergabung dengan klub itu setelah diberi sedikit dorongan oleh pria yang disukainya dan tanpa diketahuinya ternyata perjalanannya di dunia cheerleader akan membawanya ke Amerika.
Film Cheer☆Dance dibuat berdasarkan kisah nyata dari tim cheerleader asal prefektur Fukui yang bersaing dalam sebuah kompetisi di Amerika. Kisah tentang klub cheerleader "JETS" dari Fukui Commercial High School di dunia nyata menjadi dasar dibuatnya film ini. Pada tahun 2009, mereka pernah memenangkan kompetisi NDA National Championship di Amerika Serikat. Selama bulan Juni 2016, beberapa adegan dari film ini diambil di San Diego State University Viejas Arena di San Diego University di California, Amerika Serikat untuk menjaga keotentikannya.
(Featured image: aramajapan.com)
Sources :