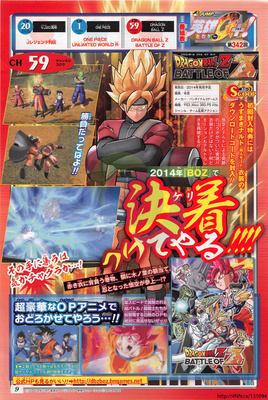 Mungkin kita masih mengingat saat Naruto mendapatkan kostum Son Goku sebagai bonus first press perilisan "Naruto Shippuden: Ultimate Ninja Storm 3". Kini, giliran Son Goku yang mendapatkan kostum Naruto di game fighting terbaru Dragon Ball Z, "Dragon Ball Z: Battle of Z".
Pemain dapat menerima kode DLC kostum sage mode Naruto sebagai bonus first press game ini.
Menyediakan lebih dari 60 misi dan mencakup keseluruhan saga Dragon Ball Z, game ini dapat mengakomodasi hingga empat pemain untuk bekerjasama atau delapan pemain untuk beradu dengan sistem battle royale secara online. Game ini juga akan menampilkan serangan seperti "Meteor Chain" (serangan yang sukses), "Synchro Rush" (serangan terus menerus), dan "Revive Soul" (membangkitkan rekan yang gugur). "Dragon Ball Z: Battle of Z akan tersedia dalam tiga konsol: PlayStation 3, Xbox 360, dan PSVita. Harga dan tanggal rilis belum diumumkan.
Source : jefusion.com