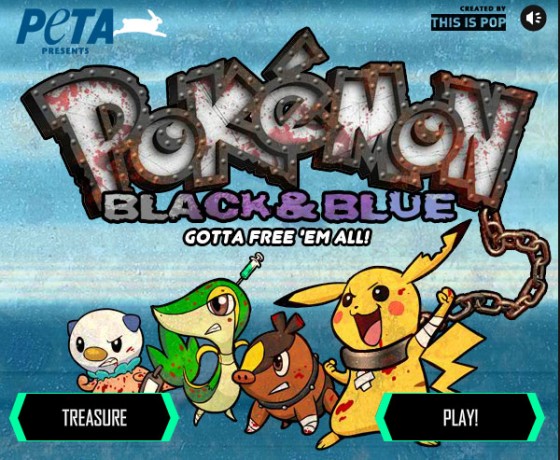 Para pejuang hak hewan yang tergabung dalam PETA (People for the Ethical Treatment of Animals) sangat yakin bahwa mahluk-mahluk dalam serial anime dan game populer Jepang Pokémon adalah hewan juga. Karenanya, mereka telah merilis sebuah parodi game browser Pokémon Black & Blue.
Pernyataan berikut menguraikan dengan jelas sikap PETA terhadap pembebasan para Pokémon dari pelatih kejam mereka:
"Sama seperti hewan lainnya di dunia ini, Pokémon diperlakukan sebagai obyek yang tidak memiliki perasaan dan digunakan untuk hal-hal seperti hiburan manusia dan sebagai subyek dalam eksperimen. Melihat bagaimana mereka dijejalkan ke dalam pokéball adalah serupa dengan gajah sirkus yang dimasukkan ke dalam kerangkeng sempit dengan kaki dirantai dan hanya dikeluarkan saat mereka harus melakukan atraksi membingungkan dan seringkali menyakitkan menggunakan tongkat berujung besi tajam atau tongkat beraliran listrik… jika PETA ada di Unova, motto kami adalah: Pokémon bukan hak kami untuk digunakan atau disalahgunakan. Mereka ada untuk alasan-alasan mereka sendiri. Kami percaya bahwa inilah pesan yang seharusnya diberikan kepada seluruh anak yang menonton serial ini."
Alih-alih memfokuskan usaha mereka untuk membantu hewan nyata di dunia ini, orang-orang di PETA malah membuang waktu dan upaya mereka untuk karakter-karakter 2D.
sumber : alafista.com