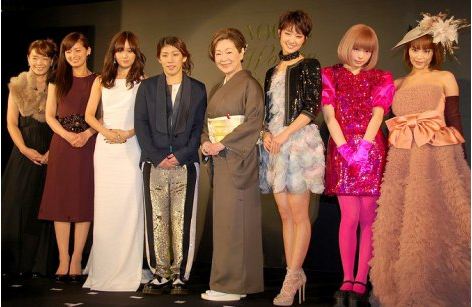 Pada tanggal 26 November, para pemenang VOGUE JAPAN Women of the Year 2012 menghadiri upacara penghargaan di Tokyo, Jepang.
Para pemenang untuk penghargaan ke-8 ini adalah Atsuko Maeda, Kyary Pamyu Pamyu, Ayame Gouriki, Toshiko Akiyoshi, Kaori Icho, Machiko Ono, Asami Kiyokawa, Mari Yamazaki, Saori Yuki, dan Saori Yoshida.
Upacara penghargaan tersebut diadakan pada sebuah panggung khusus luar ruangan di tengah hujan. Meskipun cuaca dingin, Maeda tersenyum saat ia berkata, "Sebagai seorang manusia, aku akan melakukan yang terbaik untuk menjadi seorang wanita yang dapat diandalkan."
Gouriki menyatakan, "Bagiku, majalah ini adalah majalah dewasa yang aku kagumi, jadi aku merasa senang menerima penghargaan yang indah ini." Sambil bersuka cita, Kyary berkata, "Ah maaf. Aku harus pergi bekerja," dan meninggalkan upacara tersebut lebih awal untuk menghadiri konferensi pers untuk acara Kouhaku Uta Gassen.
Sambil mengambil piala yang dibuat oleh arsitek Shohei Shigematsu, Ono menyatakan, "Aku akan terus melakukan yang terbaik sebagai seorang aktris supaya aku tidak mempermalukan penghargaan yang indah ini." Dengan senyuman malu, artis manga Thermae Romae Mari Yamazaki berkata, "Biasanya aku berada di meja di rumahku, karenanya aku tidak pernah menyangka bahwa akan datang suatu hari dimana aku dapat pergi ke sebuah tempat seperti ini."
source : joshiplus.jp via tokyohive.com