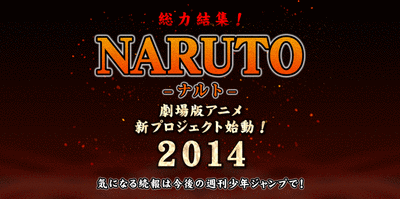 Para staf dari franchise anime populer di Jepang Naruto mengeluarkan pengumuman dalam acara Jump Fiesta pada hari Sabtu lalu bahwa proyek film layar lebar baru akan diluncurkan pada tahun 2014 mendatang. Informasi lebih lanjut akan diberikan di edisi mendatang majalah Weekly Shonen Jump terbitan Shueisha.
Hingga saat ini, setiap tahunnya telah dirilis sebuah film layar lebar Naruto sejak tahun 2004 silam. Film kesembilan franchise tersebut, Road to Ninja: Naruto the Movie, telah diputar di bioskop-bioskop Jepang mulai tanggal 28 Juli lalu dan menjadi film yang memperoleh pendapatan kotor tertinggi untuk franchise ini. Viz Media telah merilis sebagian dari film-film tersebut di Amerika Utara, termasuk yang paling baru adalah Naruto Shippūden: The Will of Fire pada bulan October.
Franchise anime lain dari manga Shonen Jump, One Piece, telah berganti dari jadwal film layar lebar tahunan menjadi satu film layar lebar setiap beberapa tahun sekali sejak perilisan film ke-10 mereka tahun 2009 yang berjudul One Piece Film Strong World.
Source : saiyanisland.com via animenewsnetwork.com