Berita Jepang | Japanesestation.com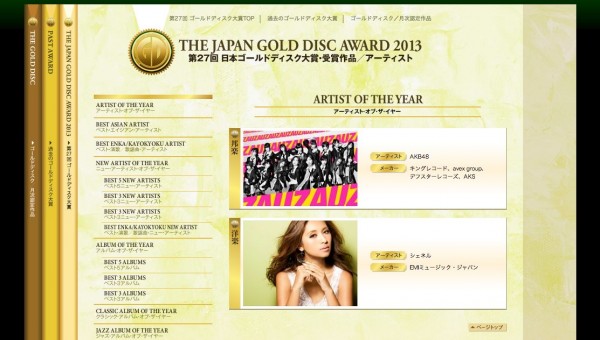 Para pemenang dari ajang THE JAPAN GOLD DISC AWARD 2013 telah terungkap.
Japan Golden Disc Award diselenggarakan oleh Recording Industry Association of Japan (RIAJ), dan RIAJ memrakarsai acara tahunan ini pada tahun 1987 silam untuk memberi penghargaan kepada para artis dan karya gemilang yang telah memberi kontribusi pada industri rekaman.
Para pemenang dipilih berdasarkan jumlah penjualan aktual dari software musik (dikurangi jumlah barang kembali dari jumlah barang yang dikirim), serta jumlah download melalui distribusi online berbayar, Chaku-Uta, dan sebagainya. Pemenang untuk tahun ini dipilih dari data yang berhasil dikumpulkan sejak tanggal 1 November 2011 hingga 31 Oktober 2012.
Gelar "Artist Of The Year" dianggap sebagai hadiah utama dari ajang penghargaan ini, dan untuk tahun ini diraih oleh grup idol AKB48 sebagai pemenang dari Jepang, serta Che'Nelle sebagai pemenang dari Barat.
Di bawah ini adalah daftar lengkap pemenang dari ajang THE JAPAN GOLD DISC AWARD 2013.
THE JAPAN GOLD DISC AWARD 2013
- ARTIST OF THE YEAR
• AKB48 (Japanese) • Che'Nelle (Western)
- BEST ASIAN ARTIST
• KARA
- BEST ENKA/KAYOKYOKU ARTIST
• Yuki Saori
- NEW ARTIST OF THE YEAR
• Nogizaka46 (Japanese) • One Direction (Western) • B1A4 (Asia)
- BEST 5 NEW ARTISTS (Japanese)
• Ieiri Leo • A.B.C-Z • JIN • Sexy Zone • Nogizaka46
- BEST 3 NEW ARTISTS (Western)
• Alexandra Stan • Hot Chelle Rae • One Direction
- BEST 3 NEW ARTISTS (Asia)
• IU • B1A4 • BOYFRIEND
- BEST ENKA/KAYOKYOKU NEW ARTIST
• Usuzawa Misaki
- ALBUM OF THE YEAR
• "Mr.Children 2005-2010
" – Mr.Children (Japanese) • "Believe" – Che'Nelle (Western) • "Super Girl" – KARA (Asia) - BEST 5 ALBUMS (Japanese) • "1830m" – AKB48 • "EXILE JAPAN/Solo" – EXILE • "ALL SINGLES BEST 2″ – Kobukuro • "Mr.Children 2001-2005 " – Mr.Children • "Mr.Children 2005-2010 " – Mr.Children - BEST 3 ALBUMS (Western) • "¡Uno!" – Green Day • "Believe" – Che'Nelle • "Living Things" – Linkin Park - BEST 3 ALBUMS (Asia) • "Super Girl" – KARA • "Just Crazy" – Jang Keun-suk • "ALIVE" – BIGBANG - CLASSIC ALBUM OF THE YEAR • "BATTLE NOTES" – →Pia-no-jaC← × Hakase Taro - JAZZ ALBUM OF THE YEAR • "Little Broken Hearts" – Norah Jones - INSTRUMENTAL ALBUM OF THE YEAR • "Strings Of My Soul" – Matsumoto Takahiro - SOUND TRACK ALBUM OF THE YEAR • "'Persona 4 The Golden' Original Sound Track" – Persona 4 - ANIMATION ALBUM OF THE YEAR • "'Bakemonogatari' Ongaku Zenshu Songs & Soundtracks" – Bakemonogatari - TRADITIONAL JAPANESE MUSIC OF THE YEAR • "Dai 48 Kai Columbia Zenkoku Ginei Concours Kadaigin Nanten" – Nippon Columbia Ginei Ongakukai - CONCEPT ALBUM OF THE YEAR • "COVERS" – BENI - SINGLE OF THE YEAR • "Manatsu no Sounds good!" – AKB48 - BEST 5 SINGLES • "Ue kara Mariko" – AKB48 • "UZA" – AKB48 • "GIVE ME FIVE!" – AKB48 • "Gingham Check" – AKB48 • "Manatsu no Sounds good!" – AKB48 - SONG OF THE YEAR BY DOWNLOAD • "Love Story" – Amuro Namie (Japanese) • "Believe" – Che'Nelle (Western) • "PAPARAZZI" – Shoujo Jidai (Asia) - BEST 5 SONGS BY DOWNLOAD • "Happiness" – AI • "Love Story" – Amuro Namie • "Yasashiku Naritai" – Saito Kazuyoshi • "Believe" – Che'Nelle • "Tatoe Donna ni…" – Nishino Kana - BEST MUSIC VIDEOS • "ARASHI LIVE TOUR Beautiful World" – Arashi (Japanese) • "EXILE TRIBE LIVE TOUR 2012 ~TOWER OF WISH~" – EXILE (Japanese) • "EXILE LIVE TOUR 2011 TOWER OF WISH ~Negai no Tou~" – EXILE (Japanese) • "The Monster Ball Tour At Madison Square Garden" – Lady Gaga (Western) • "JAPAN FIRST TOUR GIRLS' GENERATION" – Shoujo Jidai (Asia) - SPECIAL AWARD • "1969″ – Yuki Saori & Pink Martini   source : golddisc.jp via tokyohive.com