Film Gukoroku (Traces of Sin/Record of Folly) yang dibintangi Satoshi Tsumabuki dan Hikari Mitsushima telah merilis trailer teaser-nya. Film yang dibuat berdasarkan novel berjudul sama karya Tokuro Nukui ini akan premier di Venice International Film Festival pada tanggal 6 September 2016 dan dirilis secara umum di Jepang tanggal 18 Februari 2017 mendatang. Selain dua bintang utamanya, film garapan sutradara Kei Ishikawa yang syutingnya dimulai sejak bulan Maret 2016 ini juga turut dibintangi oleh Keisuke Koide, Asami Usuda, Mari Hamada dan Mitsuru Hirata.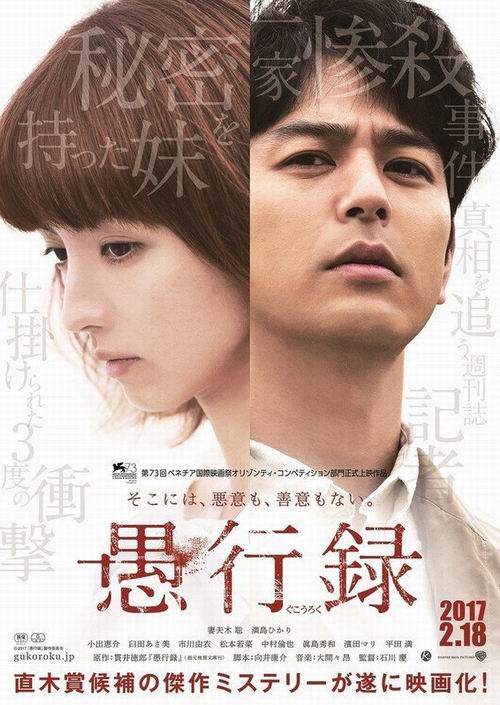 Dikutip dari berbagai sumber, dalam film Gukoroku, Satoshi Tsumabuki berperan sebagai seorang reporter untuk sebuah majalah mingguan bernama Tanaka yang menulis tentang kasus pembunuhan suatu keluarga yang belum terpecahkan dan awalnya menjadi berita utama. Setahun kemudian, Tanaka memutuskan untuk mencoba memecahkan kasus pembunuhan keluarga yang terdiri dari seorang pengusaha elit, istri dan anak-anak mereka. Ia lalu menemukan rahasia kelam tentang keluarga yang dibunuh itu dan kebenaran di balik kasus pembunuhan tersebut akan terungkap secara bertahap.
Suka film misteri? Catat judulnya dalam daftar tontonan kalian!