Komik crossover Attack on Titan dan Marvel yang majalah Brutus dari Magazine House terbitkan pada hari Sabtu menampilkan para karakter dari Guardians of the Galaxy dan The Avengers saat mereka bertempur melawan Female Titan, Colossal Titan, Armored Titan, dan lainnya di New York City.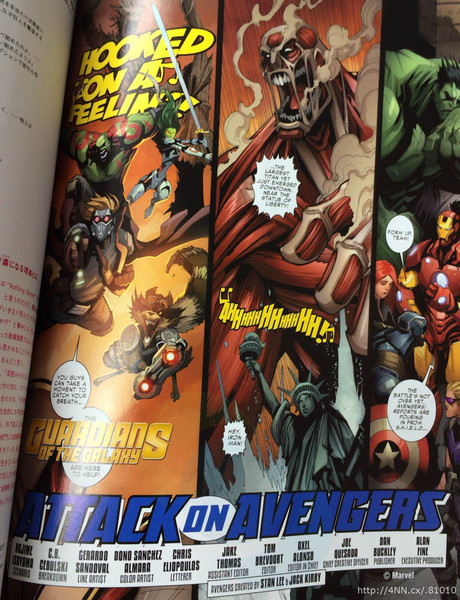 Crossover ini menampilkan dialog dalam bahasa Inggris, tetapi berisi panduan terjemahan dalam bahasa Jepang. Pencipta manga aslinya, Hajime Isayama, sendiri menciptakan plot untuk komik ini.
Komik ini berjudul Attack on Avengers, dan deretan staf selengkapnya meliputi:
Skenario: Hajime Isayama
Breakdown: C.B. Cebulski
Line Artist: Gerardo Sandoval
Color Artist: Dono Sanchez Almara
Asisten Editor: Jake Thomas
Editor: Tom Brevoort
Pemimpin Redaksi: Axel Alonso
Chief Creative Officer: Joe Quesada
Penerbit: Dan Buckley
Produser Eksekutif: Alan Fine
Edisi ini juga berisi diskusi singkat dengan Marvel Comics Senior Vice President of Creative & Creator Development C.B. Cebulski berjudul "The Boom Has Landed in America. The Reason Is Because Americans Are Becoming Prisoners" yang membahas tentang popularitas Attack on Titan di Amerika. Cebulski memperkenalkan frase berbahasa Inggris "Nothing Sacred" ketika membahas bagaimana para karakter utama dalam seri ini tiba-tiba akan mati. Ia juga berbicara tentang bagaimana pemuda masa kini di Amerika hidup di masa kegelisahan, dengan detektor logam di pintu masuk ke berbagai SMA dan anak-anak yang dilarang bermain di luar. Ia mengatakan orang-orang bisa merasa seperti mereka hidup dalam batas-batas berdinding, dan jadi mungkin para pemuda Amerika secara emosional dapat berinvestasi menjadi seperti Eren dan teman-temannya melawan  para Titan di luar dinding.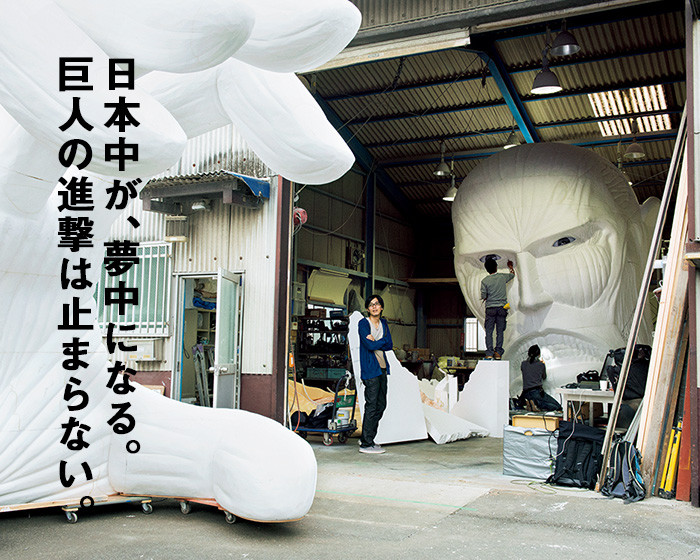 Edisi yang sama dari Brutus juga menampilkan sampul yang digambar oleh Isayama, serta wawancara dengan Isayama, dan preview dari pameran seni Attack on Titan yang akan datang.
Source : animenewsnetwork.com