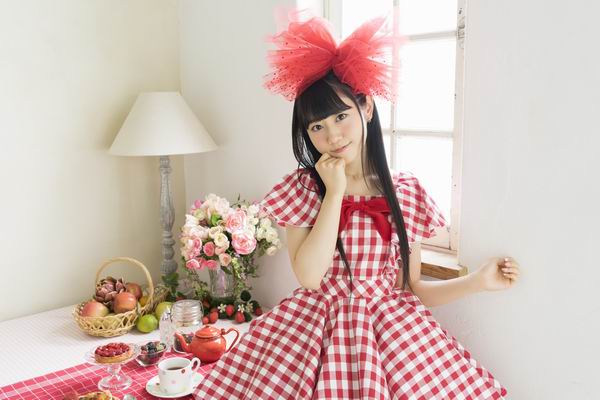 Yui Ogura adalah pengisi suara karakter Chris di "Cross Ange: Rondo of Angels and Dragons" dan juga pengisi suara karakter Tsutukakushi Yukiko di The "Hentai" Prince and the Stony Cat, yang aktif dalam banyak film populer.
Album pertama Yui Ogura "Strawberry JAM" akan rilis pada 1 April 2015 (Indonesia). Versi dance dari video klip lagu utama yang berjudul "Happy Strawberry" telah dipublikasikan. Kalian dapat melihat video klipnya di bawah ini.
Album ini tak hanya berisikan lagu-lagu single yang dirilis Ogura, juga ada beberapa lagu debut dan baru dengan berbagai genre seperti rock, musik cute dan balada. Kalian harus mendengarkan ke-12 lagu itu semua.
Yui Ogura
Album Pertama
'Strawberry JAM'
Rilis 1 April 2015
■ Profil Yui Ogura
Yui Ogura adalah gadis yang berusia 19 tahun, ia lahir pada 15 Agustus 1995. Ogura merupakan aktris pengisi suara yang aktif dan laris di film-film populer, juga seorang penyanyi.
Yui Ogura telah memulai debut solo dengan single "Raise" pada tahun 2012 lalu, ketika ia menjadi pengisi suara "Yui Kaori". Pada musim semi tahun ini, dia akan merilis album pertama yang telah lama ditunggu-tunggu, "Strawberry JAM" pada 25 Maret mendatang.
Yui Ogura Official Web Site: http://www.ogurayui.jp/
Yui Kaori Official Web Site: http://www.yuikaori.info/
[Main Filmographies]
★ TV anime ★
・Yurikuma Arashi sebagai Sumika Izumino
・World Break: Aria of Curse for a Holy Swordsman
sebagai Maya Shimon
・Girl Friend Beta sebagai Momoko Asahina
・Cross Ange: Rondo of Angels and Dragons sebagai Chris
・Recently, My Sister is Unusual sebagai Hiyori Kotobuki
・Z/X Zillions of enemy X sebagai Azumi Kagamihara
・Yozakura Quartet Hana no Uta sebagai Kohime Sakurano
・Unbreakable Machine-Doll sebagai Komurasaki
・Hyperdimension Neptunia sebagai Rom
・The "Hentai" Prince and the Stony Cat sebagai Tsutukakushi Yukiko
・Encouragement of Climb sebagai Kokona Aoba
・The Pet Girl of Sakurasou sebagai Yūko Kanda
・Nakaimo – My Sister is Among Them! sebagai Yuzurina Houshou
・The Ambition of Oda Nobuna sebagai Hanbē Takenaka
・Campione! -Matsuro Wanu Kamigami to Kami Koroshi no Maō sebagai Athene
・Hyōka sebagai Kayo Zenna
・Tsuritama sebagai Sakura Usami
・Saki Achiga-hen episode of Side-A sebagai Toki Onjōji
・Sket Dance sebagai Suzu Chuma
・Aquarion Evol sebagai Yunoha Thrul
・High School DxD sebagai Katase
・Mayo Chiki! sebagai Choco
・C³ sebagai Kuroe Ningyohara
・Kami-sama no Memo-chō sebagai Alice
・Ro-Kyu-Bu! sebagai Hinata Hakamada
・Oreimo, short for Ore no Imōto ga Konna ni Kawaii Wake ga Nai sebagai Tamaki Gokō of Kuroneko's sister.
・Yumeiro Patissiere Professional sebagai Mint
Lirik dari lagu Happy Strawberry:
作詞(Lyrics):山口朗彦(Yamaguchi Akihiko)/中原徹也 作曲・編曲(Music/Arrangement):山口朗彦(Yamaguchi Akihiko)
逃げてちゃダメ 避けてちゃダメ(Nigetecha Dame Nigetecha Dame)
後悔なんてしたくない(Koukai Nante Shitakunai)
LET'S GO HAPPY
らしく進もう(Rashiku Susumou)
GOOD DAY めざましより(Mezamashi Yori)
(早起きの(Hayaokino) SUNNY DAY)
今日はいつもよりも(Kyou wa Itsumoyorimo)
(ちょっとおしゃれ頑張った(Cyotto Osyare Ganbatta))
なのに全然 君は全然(Nanoni Zenzen Kimiwa Zenzen)
気づかないでよそ見してるんだ(Kizukanaide Yosomi Shiterunada)
知らない乙女心(Shiranai Otomegokoro)
教えてあげる(Oshieteageru)
君が好き! 素直になって(Kimiga Suki  Sunaoni Natte)
言えたらどんなに(Ietara Donnani) SO HAPPY
溢れ出す(Afuredasu) この愛は(Kono Aiwa) 甘いだけではありません!(Amaidakedewa Arimasen)
明日が今日より輝いて(Asuga Kyouyori Kagayaite)
幸せになれますように(Shiawaseni Naremasuyouni)
ちょっとくらいつよがりなところも許してください(Cyottogurai Tsuyogarinatokorom)
逃げてちゃダメ 避けてちゃダメ(Nigetecha Dame Nigetecha Dame)
後悔なんてしたくない(Koukai Nante Shitakunai)
LET'S GO HAPPY
らしく進もう(Rashiku Susumou)
なんで!? ついてなくて(Nande Tsuitenakute)
(へこんじゃう(Hekonjyau) RAINY DAY)
お気に入りの靴(Okiniirino Kutsu)
(水たまり ガッカリ(Mizutamari Gattsukari))
なのに突然(Nononi Totsuzen) 君が突然(Kimiga Zenzen)
振り返った(Furikaetta) その笑顔で(Sonoegaode)
あつくなっていく頬に(Atsuku Natte Iku Hohoni)
気づかないでね(Kizukanaidene)
君の手と(Kimino Teto) 手が触れ合って(Tega Fureatte)
伝わってるよ(Tsutawatteruyo) もう(Mou) MY SWEET
溢れ出す(Afuredasu) この愛を(Konoaio) 甘い果実に育てたい!(Amaikazitsu Ni Sodatetai)
今日うまくいかなくたって(Kyou Umaku Ikanakutatte)
明日から 変われるように(Asukara Kawareruyouni)
ちょっとだけ弱気でも私を照らしてください(Cyottodake Yowakidemo Watashio)
涙ふいて 上を向いて(Namida Fuite Ueo Muite)
止まってなんていられない(Tomatte Nante Irarenai)
LET'S GO HAPPY
らしく進もう(Rashiku Susumou)
昨日までの自分にさよなら(Kinoumadeno Jibun Ni Sayonara)
明日は(Asuwa)(きっと(Kitto))明日の(Asuno)(もっと(Motto))
太陽が 照らすよ(Taiyouga Terasuyo)
君が好き! 素直になって(Kimiga Suki  Sunaoni Natte)
言えたらどんなに(Ietara Donnani) SO HAPPY
溢れ出す(Afuredasu) この愛は(Kono Aiwa) 甘いだけではありません!(Amaidakedewa Arimasen)
明日が今日より輝いて(Asuga Kyouyori Kagayaite)
幸せになれますように(Shiawaseni Naremasuyouni)
ちょっとくらいつよがりなところも許してください(Cyottogurai Tsuyogarinatokorom)
逃げてちゃダメ 避けてちゃダメ(Nigetecha Dame Nigetecha Dame)
後悔なんてしたくない(Koukai Nante Shitakunai)
LET'S GO HAPPY
らしく進もう(Rashiku Susumou)