Situs resmi dari film live-action Blade of Immortal yang diangkat dari manga karangan Hiroaki Samura telah merilis trailer terbarunya. Trailer terbaru ini menampilkan beberapa cuplikan adegan serta lagu temanya.
Trailer film ini juga mengungkap lagu lagu temanya yang dibawakan oleh Miyavi berjudul Live to Die Another Day ~Sonzai Shomei~ (Live to Die Another Day ~ Proof of Existence) yang menggambarkan perjuangan Manji dan mengangkat tema film ini yaitu "Are you trully alive?" ("Apakah kamu benar-benar hidup?").
Miyavi mangatakan bahwa Takashi Mike selaku sutradara film ini menginginkan sebuah lagu yang bisa menjembatani antara sudut pandang film tersebut dan dunia nyata untuk para penonton.
Sebelumnya Miyavi pernah membuat lagu berjudul Top the World dan Otherside untuk Takuya Kimura, mantan anggota SMAP. Miyavi juga pernah hadir mengiringi permainan gitar untuk lagu Top the World dalam penampilan di NHK Kouhaku Uta Gassen pada tahun 2014 yang lalu.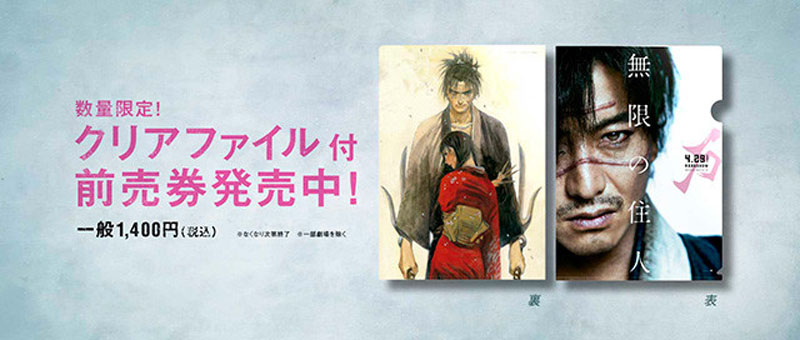 Website film ini pun telah menampilkan poster terbaru untuk live-action Blade of Immortal.
Wah, semakin tidak sabar nih untuk menontonnya di layar lebar! Apakah film akan mengikuti kesuksesan live-action Rurouni Kenshin?
Source : animenewsnetwork.com