Mayoritas pecinta J-pop culture atau otaku sangat mencintai karakter yang mereka sukai, dan banyak sekali pemikiran bahwa suami atau istri mereka adalah karakter tersebut. 80% otaku hampir memiliki pemikiran seperti ini. Karena hal tersebut, sudah dipastikan sebagian besar otaku memiliki "pasangan khayalan". Dan kecenderungan open minded tentang cinta hingga sesama jenis jadi sebuah hal yang biasa. Mengacu pada hal tersebut, event ini akan menitik beratkan pada kisah cinta dunia khayalan dan lifestyle dari otaku tersebut.
Acara yang diberi nama "The Royal Boys Love Convention" ini merupakan rangkaian acara dari event "The Royal Love Convention". The Royal Love Convention sendiri merupakan sebuah event dengan konsep utama adalah romantisme dan cinta. Tema utamanya sendiri adalah Royal Academy dengan banyak unsur romantisme dan cinta di dalamnya. Cinta dan romantisme dalam event ini tidak hanya milik pasangan berbeda jenis, namun seluruh makhluk hidup, maka itu event ini bertujuan mengajak semuanya khususnya otaku untuk menikmati romantisme dan cinta bersama-sama.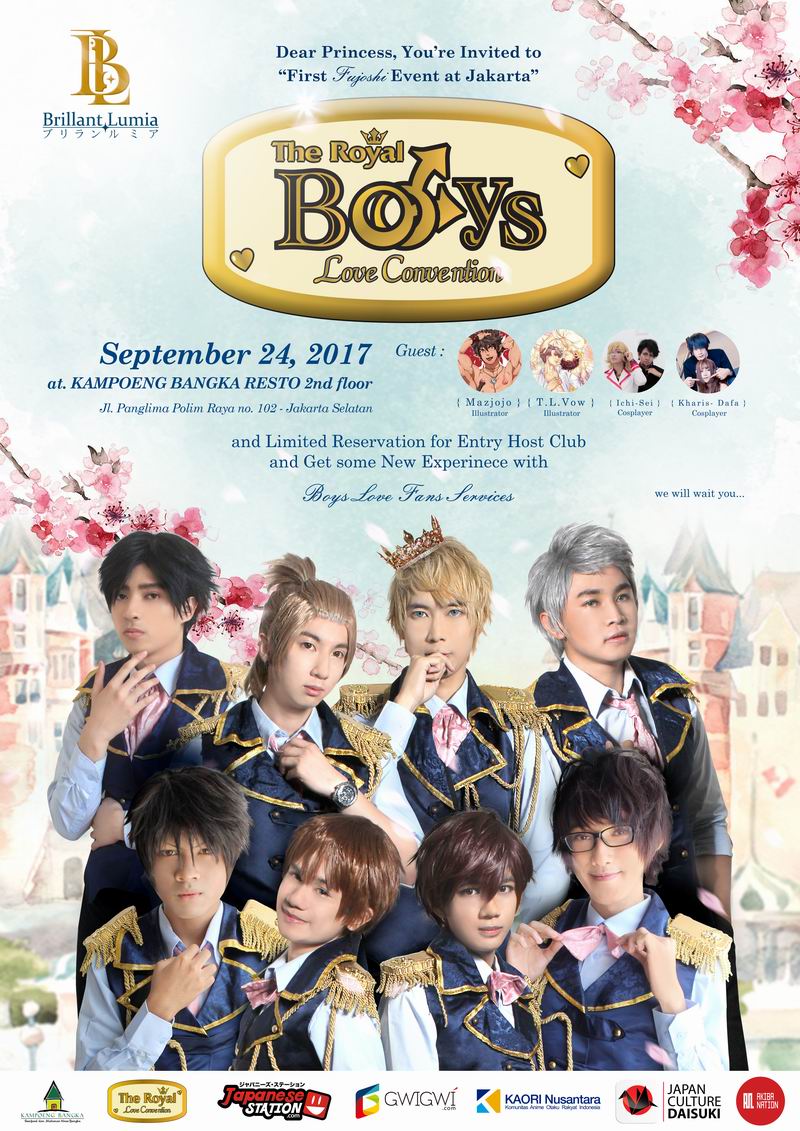 Event "The Royal Boys Love Convention" sendiri merupakan sebuah acara gathering pecinta romantisme dari subculture pop Jepang "Boys Love" di Jakarta. Konten acara yang ada dalam acara ini adalah:
– Forum Diskusi tentang Boys Love,
– Boys Love Games bersama Brillant Lumia Prince,
– Talkshow bersama Illustrator Mazjojo dan T.L.Vow,
– Photoshoot bersama cosplayer Ichi & Shei dan Dafa & Kharis,
– Drama CD Listening: Koisuru Boukun, Danshi Koukousei Hajimete dan Dramatical Murder
Event ini berbentuk private event dengan limit pengunjung adalah 100 orang. Partisipasi melalui reservasi kursi seperti bioskop. Dengan harga reservasi senilai Rp. 165.000,- para customer atau kami sebut Princess selain mendapatkan ikut serta dalam aktifitas tadi, akan mendapatkan juga poster dari para invited guest kita seperti Mazjojo, T.L.Vow, Ichi Shei dan Dafa Kharis.
Tidak hanya muatan Boys Love yang dominan, konten utama event ini yaitu Brillant Lumia Host Club secara terpisah namun masih dalam bagian event, lebih mengedepankan kisah Romantis antara seorang pangeran dengan putri kerajaan. Dengan bentuk host club, setiap customer akan dibawa ke dalam suasana romantis sebuah Private Date antara seorang princess dengan seorang prince.
Adapun harga yang ditawarkan oleh Brillant Lumia adalah:
– Pure Princess Session seharga Rp.125.000 dan Crown Princess Session seharga Rp.200.000
(jika mereservasi The Royal Boys Love Convention maka Pure Princess Session menjadi Rp.75,000 dan Crown Princess Session menjadi Rp.100,000)
Semua sesi berdurasi 25 menit dengan berbagai macam aktivitas romantis di dalamnya, termasuk seperti pemberian Love Letter, Prince's Handcrafting Gift, dll.
Kemudian host club ini juga menawarkan Princess Hours, sebuah romantic roleplay dengan tema kerajaan seperti Coronation Ceremony, Royal Candle Light Dinner dan Royal Ball Dance bersama customer yang beruntung memenangkan lelang.
Untuk info lebih lanjut mengenai event ini bisa cek ke:
The Royal Boys Love Convention: https://www.facebook.com/theroyalcon
Brillant Lumia Host Club: https://www.facebook.com/blhostclub
SMS/ WA : Kamiya – 085693039132