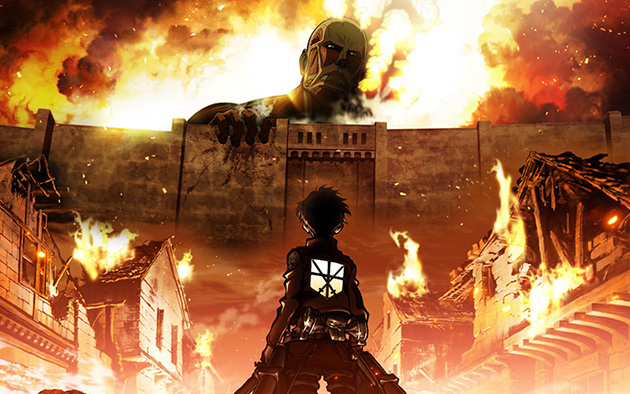 Trailer teaser untuk film Shingeki no Kyojin Zenpen ~Guren no Yumiya~ (Attack on Titan Part I: Crimson Bow and Arrow) telah dirilis hari Sabtu.
Pada hari itu, manusia menerima pengingat suram.
Rasa takut dikuasai oleh mereka
Kami, kita semua, yang dari waktu kita dilahirkan.
Bagaimana pun menakutkannya dunia ini, bagaimana pun kejamnya dunia ini
Berperang! Berperang!
Serial anime televisi Attack on Titan sebelumnya dikompilasi ulang menjadi dua film layar lebar. Film pertama akan dibuka pada tanggal 22 November, sementara film kedua, Shingeki no Kyojin Kōhen ~Jiyū no Tsubasa~ (Attack on Titan Part II: Wings of Freedom), akan tayang perdana tahun depan. (Kedua film itu mengambil judul dari opening theme populer milik Linked Horizon untuk serial anime televisinya.)
Kedua film baru itu akan menampilkan dubbing baru dan remaster 5.1ch dengan para pengisi suara yang kembali mengisi suara peran mereka seperti Yuuki Kaji (Eren Jaeger), Yui Ishikawa (Mikasa Ackerman), dan Marina Inoue (Armin Arlelt). Film pertama akan mencakup episode 1 sampai 13, sedangkan film kedua akan mencakup episode 14 sampai 25. Kedua film tersebut akan sekali lagi menampilkan sutradara Tetsuro Araki di Wit Studio dan komposer Hiroyuki Sawano.
Tiket awal untuk film pertama telah dijual mulai tanggal 21 Juni, dan mereka yang memesan tiket awal ini akan menerima bonus berupa satu dari dua clear file dengan ilustrasi spesial oleh desainer karakter Kyoji Asano.
Source : Anime News Network