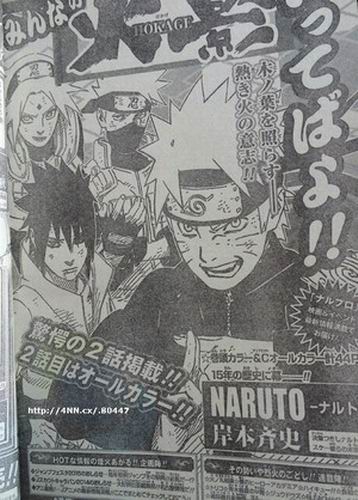 Edisi ke-49 tahun ini dari majalah Weekly Shonen Jump terbitan Shueisha telah mengumumkan pada hari Sabtu bahwa manga final Naruto yang "menakjubkan" karya Masashi Kishimoto akan dibuat menjadi sepanjang dua chapter dalam edisi berikutnya pada tanggal 10 November. Selain itu, chapter keduanya seluruhnya akan berwarna. Secara keseluruhan, edisi ke-50 dari majalah tersebut akan menerbitkan 44 halaman.
Majalah itu mengumumkan lebih awal bulan ini bahwa manga tersebut akan berakhir dalam edisi ke-50 tahun ini pada tanggal 10 November.
Kishimoto telah menyerialisasikan manga bertema ninja tersebut di majalah Weekly Shonen Jump terbitan Shueisha sejak tahun 1999, dan Shueisha akan menerbitkan buku volume yang telah dikompilasi ke-71 di Jepang pada tanggal 4 November. Viz Media menerbitkan volume ke-67 di Amerika Utara bulan ini. Serial ini menduduki peringkat ke-4 di antara 10 judul Shonen Jump dari segi volume penjualan pada tahun 2012.
Serial ini telah melahirkan beberapa serial anime, film anime, original video anime, dan berbagai adaptasi game. Anime Naruto Shippuden masih berjalan, dan film berjudul The Last -Naruto the Movie- akan diputar di Jepang pada tanggal 6 Desember.
Source : animenewsnetwork.com