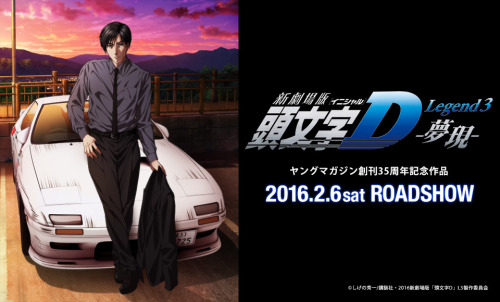 Dari manga yang dibuatkan game, anime series, sejumlah movie, dan bahkan adaptasi film live-action-nya, kiprah anime movie series Initial D – Legend di layar lebar yang sempat berkunjung ke tanah air tak terasa sudah akan mencapai pengujung kisahnya. Diawali New Initial D the Movie – Legend 1: Awakening di tahun 2014, lalu Racer pada bulan Mei lalu di Jepang, kisahnya akan kemudian ditutup oleh New Initial D the Movie – Legend 3: Half Awake, Half Asleep yang dijadwalkan untuk dirilis pada 6 Februari tahun depan.
Akan kembali dinaungi oleh Sanzigen dan LIDEN FILMS, movie dengan judul asli Shin Gekijoban Initial D Legend 3 -Yumeutsutsu- ini akan kembali menampilkan jajaran cast dari film-film sebelumnya, antara lain:
Mamoru Miyano sebagai Takumi Fujiwara
Yuuichi Nakamura sebagai Keisuke Takahashi
Daisuke Ono sebagai Ryousuke Takahashi
Maaya Uchida sebagai Natsugi Mogi
Minoru Shiraishi sebagai Itsuki Takeuchi
Hiroaki Hirata sebagai Bunta Fujiwara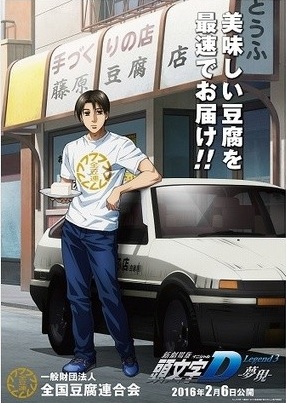 Selain juga turut bekerjasama dengan Japan's National Tofu Association (Zentoren) untuk promosinya, situs resmi konklusi trilogi ini juga telah meluncurkan key visual terbarunya, di mana kisahnya sendiri akan berfokus pada pertandingan Fujiwara melawan Ryosuke Takahashi yang dikenal dengan julukan Akagi's White Comet.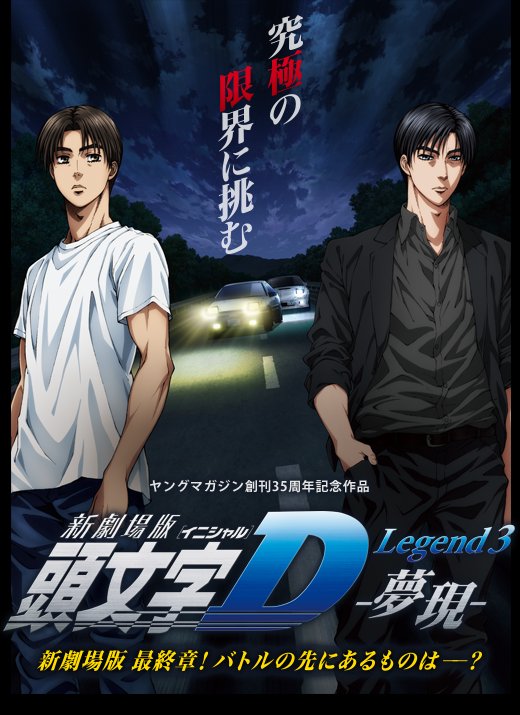 Sources :