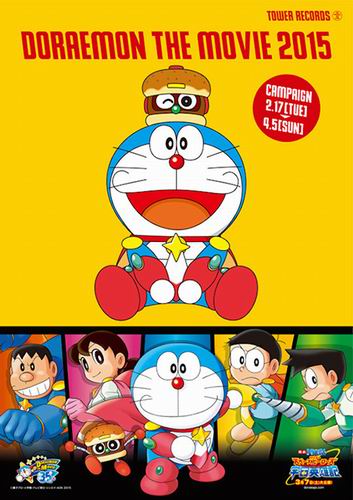 Tower Records Café Shibuya kini sedang bekerja sama dengan "Doraemon The Movies: Nobita no Space Heroes".
Ini adalah salah satu proyek ulang tahun ke-35 dari seri "Doraemon The Movies". Selain kafe kolaborasi ini, Tower Records kini menggelar kampanye yang mendistribusikan "Doraemon The Movies 35th Anniversary Tower Records coupon", "Doraemon The Movies original mini towel" dan "Coloring of Doraemon The Movies", dan menjual tote bag, handuk, tatakan gelas, botol dan T-shirt.
Ilustrasi dari seluruh tiga puluh lima film ditampilkan di kafe ini. Kalian dapat menikmati menu kolaborasi khusus dan memesan "Doraemon The Movie original Dorayaki" untuk dibawa pulang. Barang-barang kolaborasi edisi terbatas juga tersedia di kafe ini.
Menu kolaborasinya termasuk makanan "Hero Dora-i curry (kari kering)", permen dan minuman. Barang-barang edisi terbatas seperti mug, piring, tatakan gelas, tas makan siang dan T-shirt juga dijual di "Tower Records Café Omotesando" dan "Tower Records online".
Kolaborasi ini akan berlanjut hingga tanggal 7 April, sementara kafe ini tutup pada tanggal 13 Maret. Berbagai rincian lainnya tersedia secara online.
©Fujiko-pro, Shogakukan Inc, TV Asahi, SHIN-EI Animation, ADK 2015
Links:
Campaign "Doraemon The Movie" & Tower Records
http://tower.jp/article/campaign/2015/02/17/12
Doraemon The Movies: Nobita no Space Heroes
http://doraeiga.com/2015/
Source : yattarjapan.com