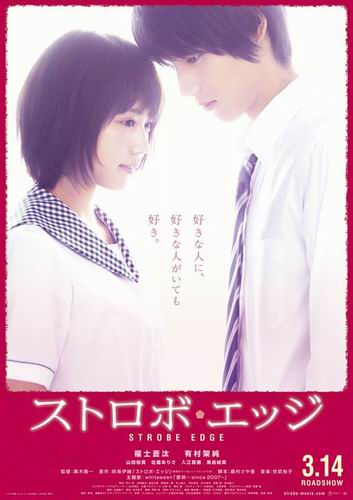 Comic Natalie telah mem-posting foto-foto baru yang datang dari film live-action adaptasi dari manga karya Io Sakisaka berjudul Strobe Edge. Film ini dibintangi Souta Fukushi (Kamen Rider Fourze) dan Kasumi Arimura (When Marnie Was There).
Film ini bercerita tentang Ninako Kinoshita (Arimura) yang belum pernah jatuh cinta hingga pertemuannya dengan Ren Ichinose (Fukushi), pemuda yang paling populer di sekolahnya. Saat ia mulai lebih dekat dengan Ren, ia jatuh cinta padanya, tetapi harus belajar untuk menghadapi fakta yang cukup disayangkan bahwa Ren sudah memiliki seorang pacar sejak lama.
Film ini juga dibintangi Yuki Yamada (Kaizoku Sentai Gokaiger) sebagai Takumo Ando, Arisa Sato (Kekkon Dousoukai) sebagai Mayuka Korenaga, Jingi Irie (Kikaider REBOOT) sebagai Daiki Korenaga dan Yuina Kuroshima (Ju-on: The Beginning of the End) sebagai Mao Sugimoto.
Strobe Edge disutradarai oleh Ryuichi Hiroki (River) dan akan mulai syuting pada bulan Januari 2015 di Prefektur Niigata. Film ini dijadwalkan akan premier pada tanggal 14 Maret di Jepang.
Source : orendsrange.com