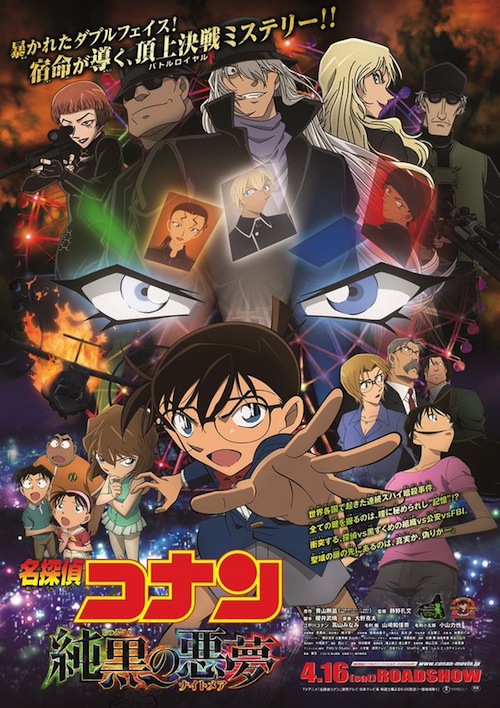 Film Detective Conan: Pure Black Nightmare (Meitantei Conan: Jyunkoku no Nightmare) yang telah dirilis di Jepang sejak tanggal 16 April yang lalu telah menjadi film dengan pendapatan tertinggi dalam waralaba film Detective Conan dengan meraup 5,057 milyar yen dalam waktu 23 hari sejak perilisannya. Film ke-19 yang berjudul Sunflowers of Inferno, yang dirilis bulan April tahun lalu, merupakan pemegang rekor sebelumnya dengan angka 4,48 milyar yen. Setelah merilis 20 filmnya, waralaba film ini telah meraup 60 milyar yen secara keseluruhan. Berikut adalah 10 film Detective Conan dengan pendapatan box office tertinggi dikutip dari crunchyroll.com.
1. "Pure Black Nightmare" (film ke-20/2016) – 5,057 milyar yen
2. "Sunflowers of Inferno" (film ke-19/2015) – 4,48 milyar yen
3. "Dimensional Sniper" (film ke-18/2014) – 4,11 milyar yen
4. "Private Eye in the Distant Sea" (film ke-17/2013) – 3,63 milyar yen
5. "The Raven Chaser" (film ke-13/2009) – 3,5 milyar yen
6. "The Phantom of Baker Street" (film ke-6/2002) – 3,4 milyar yen
7. "The Eleventh Striker" (film ke-16/2012) – 3,29 milyar yen
8. "Crossroad in the Ancient Capital" (film ke-7/2003) – 3,2 milyar yen
8. "The Lost Ship in The Sky" (film ke-14/2010) – 3,2 milyar yen
10. "Quarter of Silence" (film ke-15/2011) – 3,15 milyar yen
Film Detective Conan mana saja yang sudah kalian tonton?
Source : crunchyroll.com