Tiga bulan lagi, Takeru Sato dan Tao Tsuchiya dijadwalkan akan melangsungkan upacara pernikahan mereka, namun sayang sang wanita justru jatuh sakit dan mengalami koma. Tunangannya tidak menyerah dan meninggalkannya begitu saja, ia terus berdoa dan menunggu kesembuhannya hingga akhirnya wanita yang dicintai bangun, tapi dia sama sekali sekali tidak ingat dengan tunanganya itu. Cerita yang mengharukan tersebut merupakan latar cerita dari film yang dibintangi oleh kedua artis populer Jepang, Sato dan Tsuchiya, yang masing-masing berperan sebagai Hisashi dan Mai.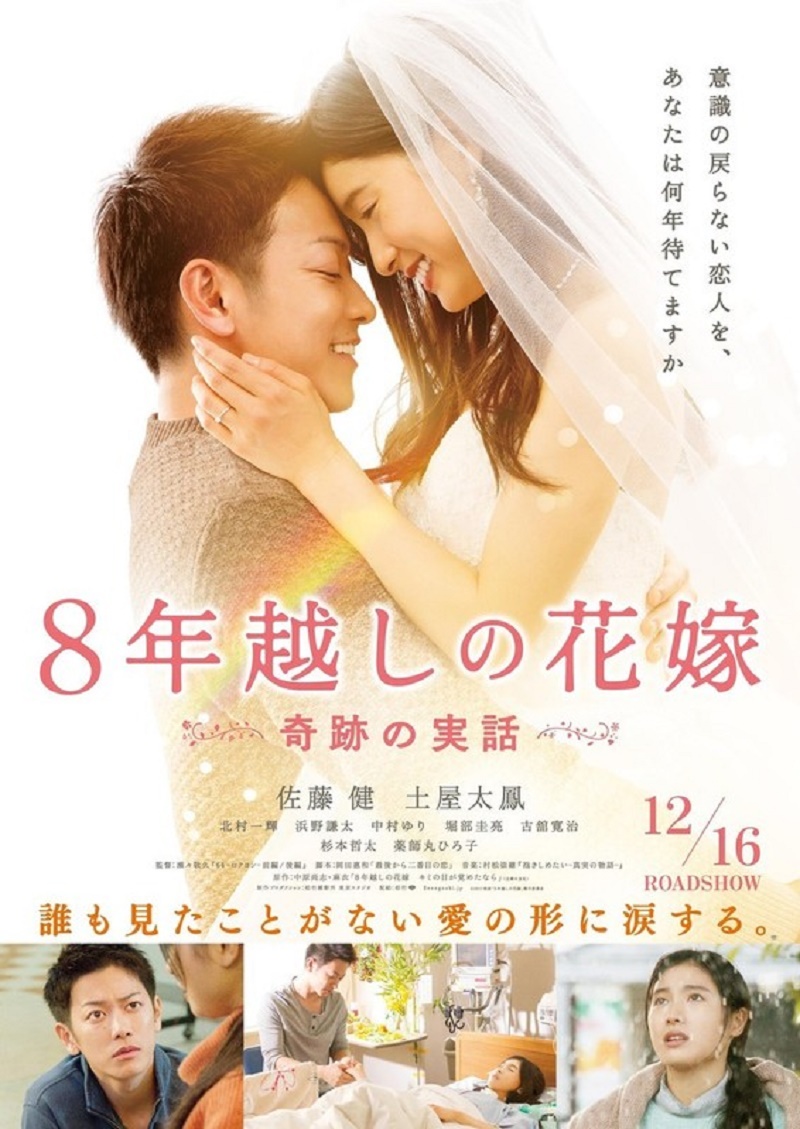 Film dengan judul The 8-Year Engagement ini diapatasi dari  novel autobiografi berjudul 8 Nen Goshi ni Hanayome Kimi no Me ga Sametanara karya penulis bernama Hisashi Nakahara dan Mai Nakahara. Setelah sebelumnya merilis potongan trailer, baru-baru akun resmi Shinemato~Udei (シネマトゥデイ) juga telah meluncurkan video trailer lengkap berdurasi satu menit di akun Youtube resmi mereka.
(Video: Youtube/シネマトゥデイ)
Selain Sato dan Tsuchiya, aktor dan aktris Jepang lain seperti Hiroko Yakushimaru, Tetta Sugimoto, Kazuki Kitamura, Kenta Hamano, Yuri Nakamura, Keisuke Horibe, Kanji Furutachi juga ikut bermain dalam film garapan sutradara Takahisa Zeze ini. Syuting film The 8-Year Engagement dimulai sejak tanggal 8 Januari 2017 hingga 14 Februari 2017 dan dijadwalkan untuk tayang di bisokop-bioskop Jepang saat musim dingin, yaitu mulai tanggal 16 Desember 2017 mendatang.
(Featured image: asianwiki.com)
Source : asianwiki.com