BANDUNG SCARLET IDOL FEST presents "Scarlet Light Has Come".
---
---
Festival idol yang bertajuk 'Scarlet light has come' ini adalah bentukan acara musik dengan kemeriahan bintang tamu idol dari berbagai kalangan yang mengedepankan akulturasi budaya Jepang dan Indonesia. Salah satu yang spesial di acara Bandung Scarlet Idol Fest adalah para pengunjung dapat berkontribusi dalam memilih siapa yang akan menjadi Kouhai LuSca berikutnya dengan cara VOTE calon favorit mereka di stand official merchandise Lumina Scarlet.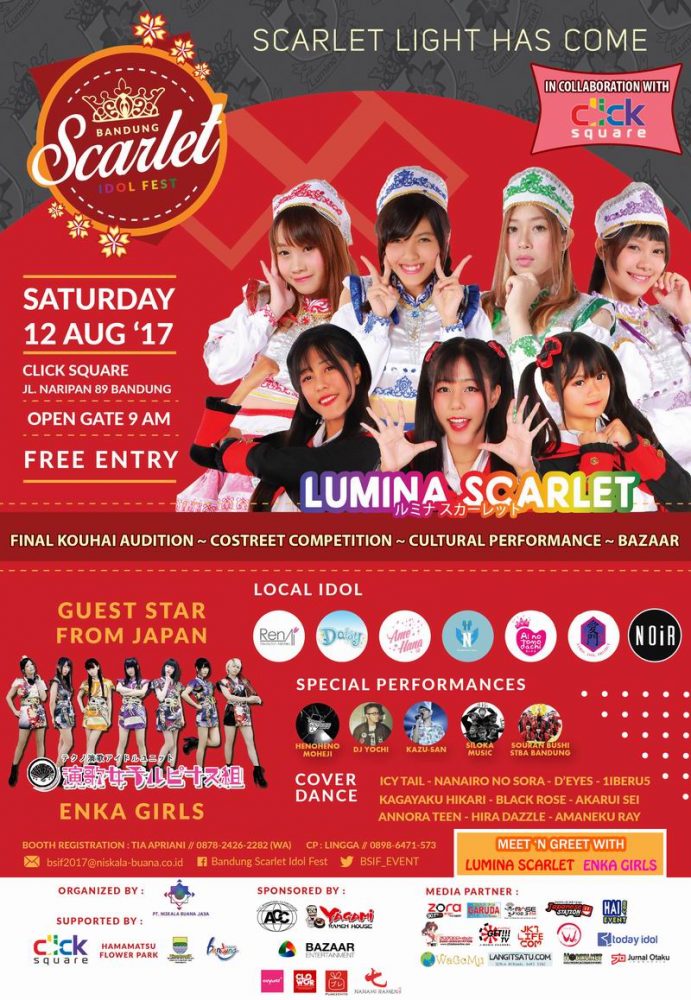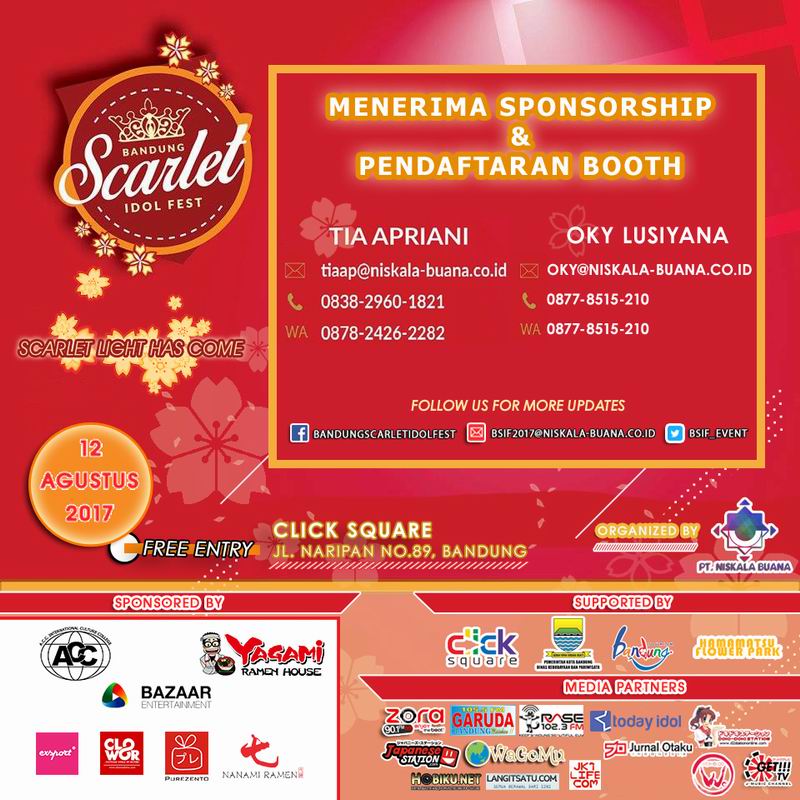 12 Agustus 2017
Click Square
Jl. Naripan No.89, Bandung
STARRING:
Lumina Scarlet (Bandung)
Enka Girls (Jepang)
Kouhai Finalists
LOCAL IDOL STARS:
~ Ren-Ai Projects (Jakarta)
~ Daisy (Bandung)
~ AmeHana (Bogor)
~ Twenty Nine Teens (Jakarta)
~ AIMON (Karawang)
~ Ai no Tomodachi (Bandung)
~ NOiR (Bandung)
SPECIAL PERFORMANCES:
* HENOHENOMOHEJI (Bandung)
* DJ YOCHI (Bandung)
* KAZU-SAN (Jakarta)
* SILOKA MUSIC (Bandung)
* SOURAN BUSHI STBA (Bandung)
DANCE COVER PARTICIPANTS:
– HIRA DAZZLE (Jakarta)
– 1IBERU5 (Bandung)
– ANNORA TEEN (Bandung)
– AKARUI SEI (Bandung)
– BLACK ROSE (Bandung)
– NANAIRO NO SORA (Bandung)
– ICY TAIL (Bandung)
– D'EYES (Bandung)
– KAGAYAKU HIKARI (Bandung)
– AMANEKU RAY (Bandung)
AND MANY MORE:
~ Costreet Competition
~ Meet 'n Greet
~ Cultural Performances
~ Doorprizes
~ Bazaar
~ And many more..
SPONSORED BY:
A.C.C. INTERNATIONAL CULTURE COLLEGE, YAGAMI RAMEN HOUSE, BAZAAR ENTERTAINMENT, EXSPORT, CLOWOR DISTRO, PUREZENTO, NANAMI RAMEN
SUPPORTED BY:
CLICK SQUARE, HAMAMATSU FLOWER PARK, DISBUDPAR BANDUNG, BANDUNG TOURISM
MEDIA PARTNERS:
ZORA RADIO BANDUNG, RASE FM, GARUDA 105.5 FM, WAGOMU, JAPANESE STATION, HAI ONLINE, DOKI-DOKI STATION, JKTLIFE.COM, JURNAL OTAKU INDO, TODAY IDOL, GET!!! TV J-MUSIC CHANNEL, LANGITSATU.COM, HOBIKU.NET, WEAMBLOO, LITTLE NIPPON MATSURI, HANTU KOMUNITAS, RADIO BUDI LUHUR
Organized by PT. Niskala Buana Jaya
CONTACT US
Email: [email protected]
Facebook: BandungScarletIdolFest
Twitter: @BSIF_EVENT