Film live-action The Wolf Girl and the Black Prince (Ookami Shoujo to Kuro Ouji) yang dibintangi Kento Yamazaki dan Fumi Nikaido akan diputar di berbagai bioskop di Jepang pada tanggal 28 Mei nanti. Baru-baru ini keduanya sempat berfoto bersama dengan meja yang digunakan dalam film tersebut, yang digambar oleh mangaka Ayuko Hatta. Meja tersebut akan ditampilkan dalam pameran khusus yang akan digelar tanggal 28 April hingga 8 Mei di PARCO, Shibuya, Tokyo, lalu tanggal 20 Mei hingga 19 Juni di PARCO, Nagoya, Aichi, dan beberapa tempat lainnya yang akan diumumkan beberapa waktu mendatang.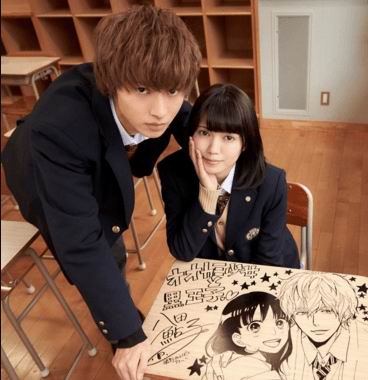 Seperti dikutip dari aramajapan.com, film live-action The Wolf Girl and the Black Prince yang disutradarai oleh Ryuichi Hiroki ini juga turut dibintangi oleh Nobuyuki Suzuki (Gekidan EXILE), Mugi Kadowaki, Ryusei Yokohama, Elaiza Ikeda, Tina Tamashiro, Ryo Yoshizawa, dan NANAO. Dalam film ini Fumi Nikaido berperan sebagai Erika Shinohara, seorang gadis yang tidak memiliki pengalaman dalam hal cinta. Sedangkan Kento Yamazaki berperan sebagai Kyouya Sata, seorang pemuda yang populer di sekolahnya. Erika berpura-pura memiliki hubungan dengan Kyouya, padahal di balik ketampanannya Kyouya adalah seorang pangeran yang sadis.
Siapa yang sudah tidak sabar ingin menonton film ini?
---
Source : aramajapan.com

Comments