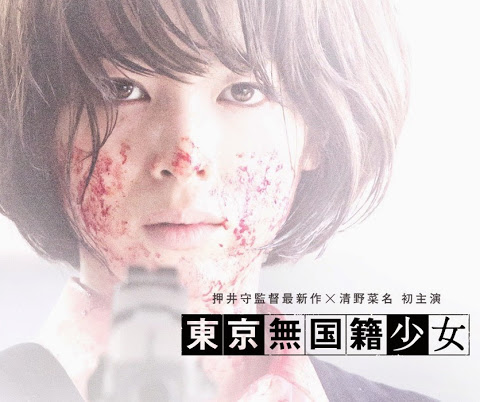 Trailer pertama berdurasi 90 detik untuk film live-action terbaru garapan sutradara ternama Mamoru Oshii (Mobile Police Patlabor, Ghost in The Shell), yang berjudul "Tokyo Mukokuseki Shoujo" telah dirilis di website resmi film ini yang diluncurkan dua hari yang lalu. Tokyo Mukokuseki Shoujo akan diputar di Jepang termasuk di Shinjuku Wald9 di Tokyo pada tanggal 25 Juli.
Seperti dilansir dari crunchyroll.com, karena trailer-nya berisi kekerasan grafis, Eirin (Motion Picture Code of Ethics Committee) di Jepang memberi rating "R15+" (hanya untuk orang-orang berumur 15 tahun ke atas) untuk film ini.
Tokyo Mukokuseki Shoujo adalah film yang jenisnya sama dengan film-film bergenre suspense seperti The Sixth Sense, Saw, dan Black Swan (dengan beberapa elemen supranatural dari Carrie?), jika dilihat dari trailer-nya. "Tidak ada yang bisa mengharapkan akhir dari 15 menit terakhir ini" merupakan tagline dari film ini.
Sebuah perguruan tinggi teknik seni khusus untuk para gadis di Tokyo menjadi latar dalam film ini. Nana Kiyono (Ouran High School Host Club, TOKYO TRIBE, Attack on Titan) yang berumur 20 tahun menjadi pemeran utama wanita dari karakter bernama Ai yang pernah disebut sebagai gadis yang jenius, tapi karena suatu kecelakaan membuatnya telah rusak secara emosional. Kehidupan sehari-harinya di sekolah, yang dikelilingi oleh orang-orang dewasa yang mencoba untuk memanfaatkannya dan teman-teman sekelasnya yang terbakar rasa cemburu padanya, menjadi plot ceritanya.
Tokyo Mukokuseki Shoujo diangkat berdasarkan film pendek berdurasi 20 menit berjudul sama pada tahun 2012 garapan Kentaro Yamagishi (Project Yamaken) yang pernah memenangkan Chairperson Award pada ajang Hardboiled Yokohama Action Movie Competition 2012. Oshii yang sangat mencintai film ini dulu menjabat sebagai ketuanya dan memutuskan untuk membuat kembali film ini sebagai sebuah film teater.
Untuk film kali ini naskahnya ditulis oleh Kei Yamamura, yang baru-baru ini bekerja dengan Oshii untuk seri live-action The Next Generation -Patlabor-. Sedangkan musik soundtrack-nya akan ditangani oleh Shuhei Kamimura (serial anime Student Council's Discretion).
Trailer untuk "Tokyo Mukokuseki Shoujo" tahun 2015
Trailer untuk film aslinya di tahun 2012 garapan Kentaro Yamagishi
Source : crunchyroll.com