Manga karya Hasegawa Machiko, Sazae-san. kini telah terdaftar dalam Guinness World of Records sebagai "longest-running animated television series in the world" pada hari Kamis lalu. Seiyuu Sazae, Kato Midori, menerima penghargaan tersebut pada sebuah upacara penghargaan.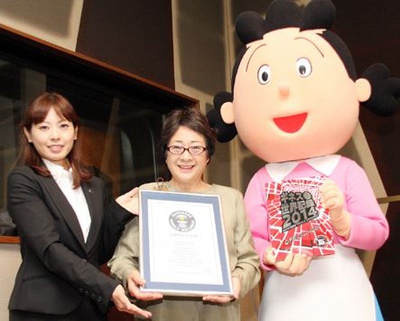 Kato merasa sangat bangga dan senang saat menerima penghargaan ini. Ia telah berpartisipasi dalam proyek ini selama 45 tahun.
Adaptasi anime dari Sazae-san telah mulai disiarkan pada 1969 dan tayangan tersebut merayakan ulang tahunnya yang ke-45 tahun ini. Anime ini terdiri dari sekitar 7.000 cerita pendek yang dikemas dalam lebih dari 2.250 episode per 1 September dan secara konsisten mendapatkan peringkat yang tinggi dalam peringkat TV Jepang.
Selain itu, kisah hidup dari sang mangaka, Hasegawa Machiko, juga akan diadaptasi ke dalam bentuk drama live-action spesial yang dijadwalkan untuk tampil pada November mendatang.
Source : jefusionc.com