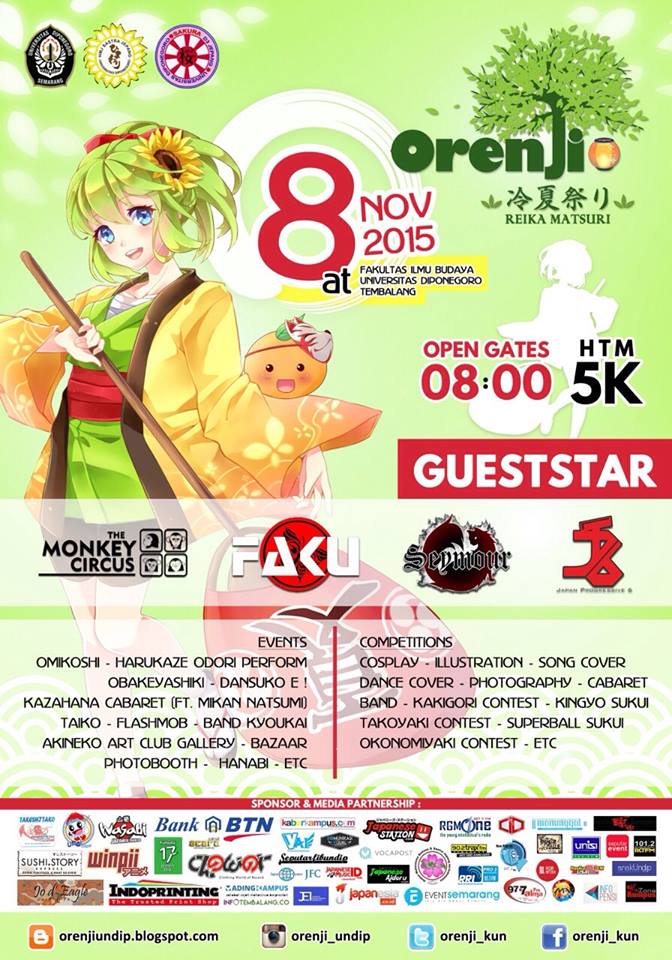 Buat kalian yang ada di Semarang, datang yuk ke acara ORENJI 2015!
Himpunan Mahasiswa Jurusan Bahasa and Sastra Jepang Universitas Diponegoro proudly present :
Festival Budaya Jepang "Original Event of Japan in Indonesia" a.k.a "ORENJI 2015" with theme "Reika Matsuri" (Festival Musim Panas yang Sejuk)
Will be held on November, 8th 2015
08.00 am – till end
HTM 5k
Gedung Fakultas Ilmu Budaya Universitas Diponegoro, Tembalang – Semarang
Special guest star:
The Monkey Circus
Faku
Seymour
JP6 ft. Donny DIZ
Fun Games:
Obake yashiki
Kingyo sukui
Super ball sukui
Takoyaki contest
Kakigoori contest
Okonomiyaki contest
with a secret doorprize for the winner!
And dont miss:
Japan Traditional Dance
Cabaret
Cosplay
Song Cover
Dance Cover
Band Performance
Photobooth
Omikoshi
Taiko
Bazaar
Gallery
39 stand
Flashmob
Hanabi
Etc
For further information:
@Orenji_kun (official twitter)
@Orenji_undip (instagram)
Orenji kun (youtube)
Orenji_kun (facebook)
orenjiundip.blogspot.com
Jangan lupa ya, catat tanggalnya, kosongkan jadwal kalian dari sekarang, datang dan ajak teman-teman kalian ke acara ORENJI 2015!