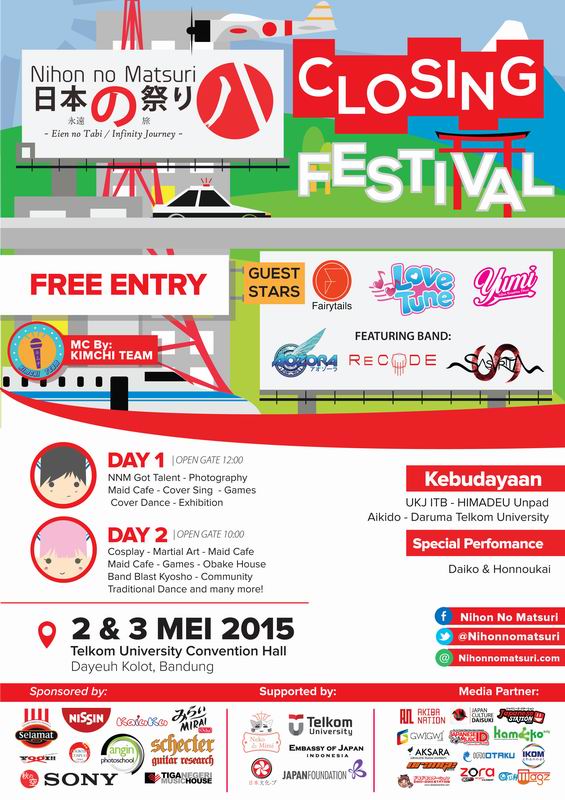 Minna, buat kalian yang ada di Bandung, akhir pekan nanti datang yuk ke acara Nihon no Matsuri 8!
Acara ini digelar tanggal 2-3 Mei 2015 di Convention Hall, Telkom University, Jl. Telekomunikasi, Dayeuh Kolot, Bandung.
Nihon no Matsuri (日本の祭り/bahasa Jepang untuk Festival Jepang) adalah sebuah rangkaian acara festival kebudayaan Jepang yang diselenggarakan di Kota Bandung Jawa Barat. Festival ini merupakan salah satu event besar yang diselenggarakan oleh Telkom University atas prakarsa dari Unit Kegiatan Mahasiswa bidang Budaya Jepang, Nippon Bunka-bu. Nihon no Matsuri sudah dimulai dari tahun 2007 dan di tahun 2015 ini merupakan tahun ke 8 Nihon no Matsuri.
Rangkaian kegiatan
• Nihon no Matsuri Music
Audisi band untuk membuat band impian sebagai sarana pengembangan bakat music, menanamkan ikatan pada komunitas yang bergerak di bidang musik dan juga sarana mengapresiasikan talenta berbakat.
• Nihon no Matsuri Culture
Menyelenggarakan berbagai lomba kebudayaan dan kreativitas Jepang antara lain; lomba membuat Manga/ Komik Jepang, lomba Seiyuu/Pengisi Suara, lomba Yu-Gi-Oh!, lomba Cosplay, lomba Photography, lomba FanArt, lomba Comic Strip dan NNM's Got Talent.
• Nihon no Matsuri Festival
Merupakan acara puncak dari semua rangkaian acara Nihon no Matsuri yang terbagi menjadi Exhibition dan Festival. Exhibition yang akan terdiri dari Creative industry Exhibition. Sedangkan Festival akan terdiri dari Merchandises, fashion, and Toys Fair, Cover Dance competition, Cover Sing Competition, Haunted House Venue (Obake), Creative Café (Maid Café), Food Fair, Stage Performance, Costume Play Performance, Martial Art Performance, Traditional Art Performance, Creative Entertainment Talent, NNM Hime To Ouji, dan Music Final Stage.
Sabtu, 2 Mei 2015
NNM's Competition ~~
• Deskripsi:
Ajang kompetisi Nihon No Matsuri bukan hanya sebagai tempat persaingan tetapi juga meningkatkan rasa semangat dalam berkarya.
• Konten:
– Cosplay
– Photography
– FanArt
– Comic Strip
– Seiyuu (Dubbing)
– Trading Card Game (Yu-Gi-Oh!)
NNM's Got Talent ~ ~
• Deskripsi :
Nihon No Matsuri memberikan wadah untuk menunjukkan bakat terpendam yang dimiliki setiap orang
• Konten:
– Lomba cover dance
– Lomba Cover Sing
Sabtu-Minggu, 2 – 3 Mei 2015
NNM's Festival ~Eien No Tabi/Infinity Journey~
• Deskripsi:
Acara puncak dari Nihon No Matsuri yang berupa replika dari festival yang diadakan di Jepang.
• Konten:
– MERCHANDISE, FASHION AND TOYS FAIR
– COVER DANCE COMPETITION
– COVER SING COMPETITION
– HAUNTED HOUSE VENUE (OBAKE)
– CREATIVE CAFE (MAID AND BUTLER CAFE)
– FOOD FAIR
– STAGE PERFORMANCE
– COSTUME PLAY (COSPLAY) PERFORMANCE
– MARTIAL ART PERFORMANCE
– CREATIVE ENTERTAINMENT TALENT
– NNM : MUSIC FINAL STAGE
– NNM : HIME TO OUJI
– PHOTOGRAPHY
Info dan kontak:
– Facebook: Nihon no Matsuri
– Twitter: @nihonnomatsuri
– Website: nihonnomatsuri.com
Banyak banget acara yang asik buat ditonton, mulai dari performer kebudayaan, guest star, cosplay, dan lain lain. Selain itu juga ada stand-stand komunitas, buat kalian yang penasaran dengan komunitas-komunitas bertema Jepang di Bandung. Juga bakal ada games yang seru selama acara ini, juga ada lomba dengan berbagai hadiah menarik. Makanya jangaan sampe kelewatan dateng ke acara ini ya! Buat kalian yang punya nyali, juga bakal ada obake house atau rumah hantu!