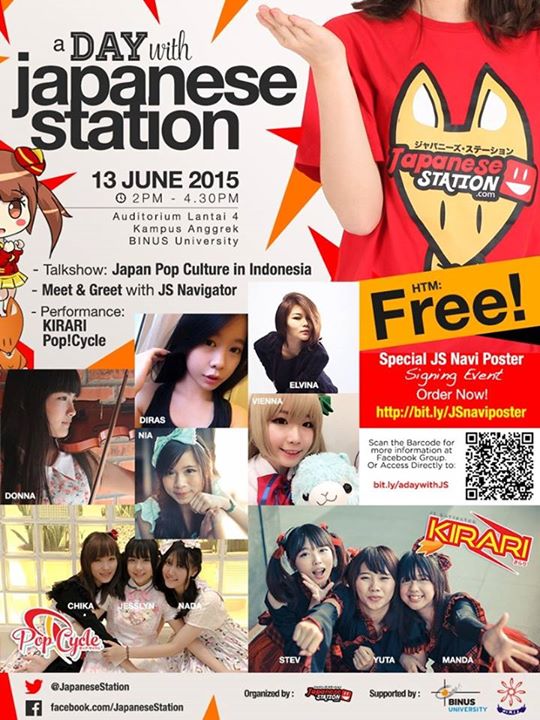 Minna, Sabtu nanti yuk kita datang beramai-ramai ke acara A Day with Japanese Station!
Di acara ini kalian bisa bertemu dengan para JS Navigator dan mengetahui banyak hal tentang Japanese Station!
Japanese Station present "A Day With Japanese Station"!
Acara ini GRATIS dan terbuka untuk umum
Hari / Tanggal: Sabtu / 13 Juni 2015
Waktu: 2PM-4.30PM.
Open Gate: 1PM
Tempat: Auditorium Lantai 4, Kampus Anggrek BINUS (Kemanggisan)
Isi acara:
– Talkshow "Perkembangan Japan Pop Culture di Indonesia" bareng JS Navigator dan beberapa nara sumber lainnya.
– Debut stage sub unit JS Navigator "POP! Cycle" (Nada, Chika, Jesslyn). Acara ini adalah pertama kalinya POP! Cycle akan membawakan lagu original mereka "Bubble POP!".
– Special Stage "Baby Metal" oleh KIRARI (Manda, Stev, Yuta). KIRARI juga akan membawakan lagu original mereka.
– JS Navigator Donna, Diras dan Nia juga turut hadir memeriahkan acara ini.
Pendaftaran Peserta (memang gratis, tapi bagi mahasiswa binus/binusian sebaiknya mengisi form untuk disiapkan certificate seminar)
https://docs.google.com/forms/d/1yj76RiG0Cc3obk59_gE3or0Qnd3yBY0d2E3gvNfjAoA/edit?usp=docslist_api&chromeless=1
Bagi mereka yang ingin memesan Poster JS Navi, silahkan isi form di bawah ini ya!
Form order poster JS Navi
https://docs.google.com/forms/d/1Yh0MDr8wXbyir1SHhjU9btGLT8YeJQqqSB8cfupoPt4/viewform?chromeless=1&edit_requested=true
Akan ada sesi khusus di acara ini bagi kalian yang memesan Poster JS Navi sebelumnya!
Jangan sampai ketinggalan ya guys~
Contact Person:
Renata (twitter: @707renata / 0896-9389-0681)
Elsa 0812-1566-0928
Supported by: BINUS University & HIMJA BINUS
Note: Dihimbau untuk tidak mengenakan sendal dan/atau celana pendek di area kampus BINUS.