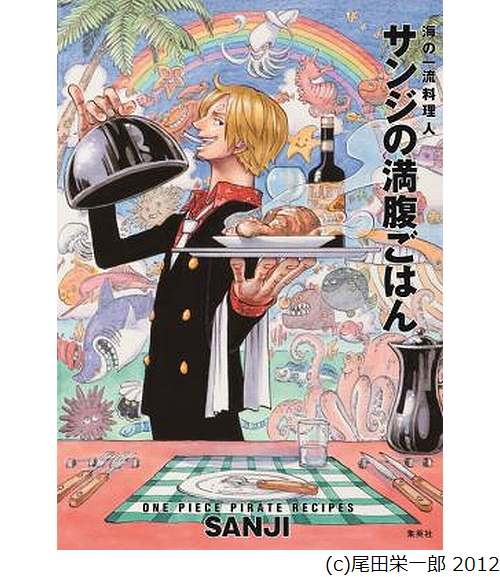 Penerbit Jepang Shueisha akan menerbitkan sebuah buku masak yang terinspirasi oleh manga One Piece karya Eiichiro Oda. Dengan judul One Piece Pirate Recipes: First-Class Cook of the Seas Sanji's Filling Meals, buku ini akan mulai dijual pada tanggal 28 November dengan harga 1.470 yen (sekitar 18.50 dolar).
Penata makanan Nami Iijima (Reel Cuisine: Blockbuster Dishes from the Silver Screen) merancang 41 resep yang ditampilkan dalam buku ini yang terinspirasi oleh Sanji, koki Straw Hat Pirates. Setiap masakan disajikan dengan cara yang mudah dimengerti oleh orang-orang dan dengan menggunakan bahan-bahan yang sudah tersedia.
Resep yang ditampilkan dalam buku ini mencakup beberapa kesukaan Luffy seperti Bone-in Meat Dish, Sky Fish Sauté, Crossing Through the Desert Pirate Bento, Potato Paille, Apology Fruit Macedonia, dan Fried Rice Put Out for Gin.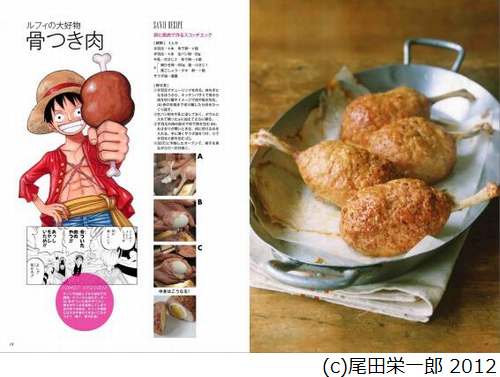 Selain itu, buku ini pun akan hadir dengan sebuah bonus sebuah tatakan silikon dengan gambar Sanji memegang gelas anggur, yang dapat digunakan sebagai pembuka botol atau pemegang panci. Buku ini juga akan menampilkan berbagai informasi mengenai tempat kerja Oda dan sebuah menu makanan yang dimakan oleh Oda dan para asistennya di rumah tangga Oda. Buku ini juga menggambarkan kebiasaan-kebiasaan makan Oda.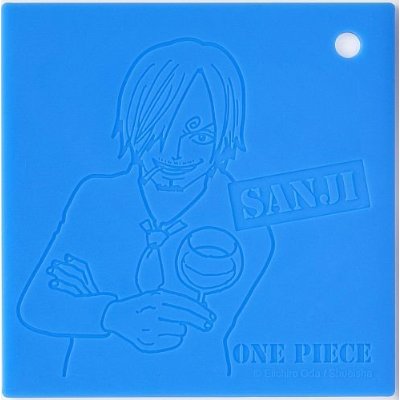 source : narinari.com via jefusion.com
pics : narinari.com, animenewsnetwork.com