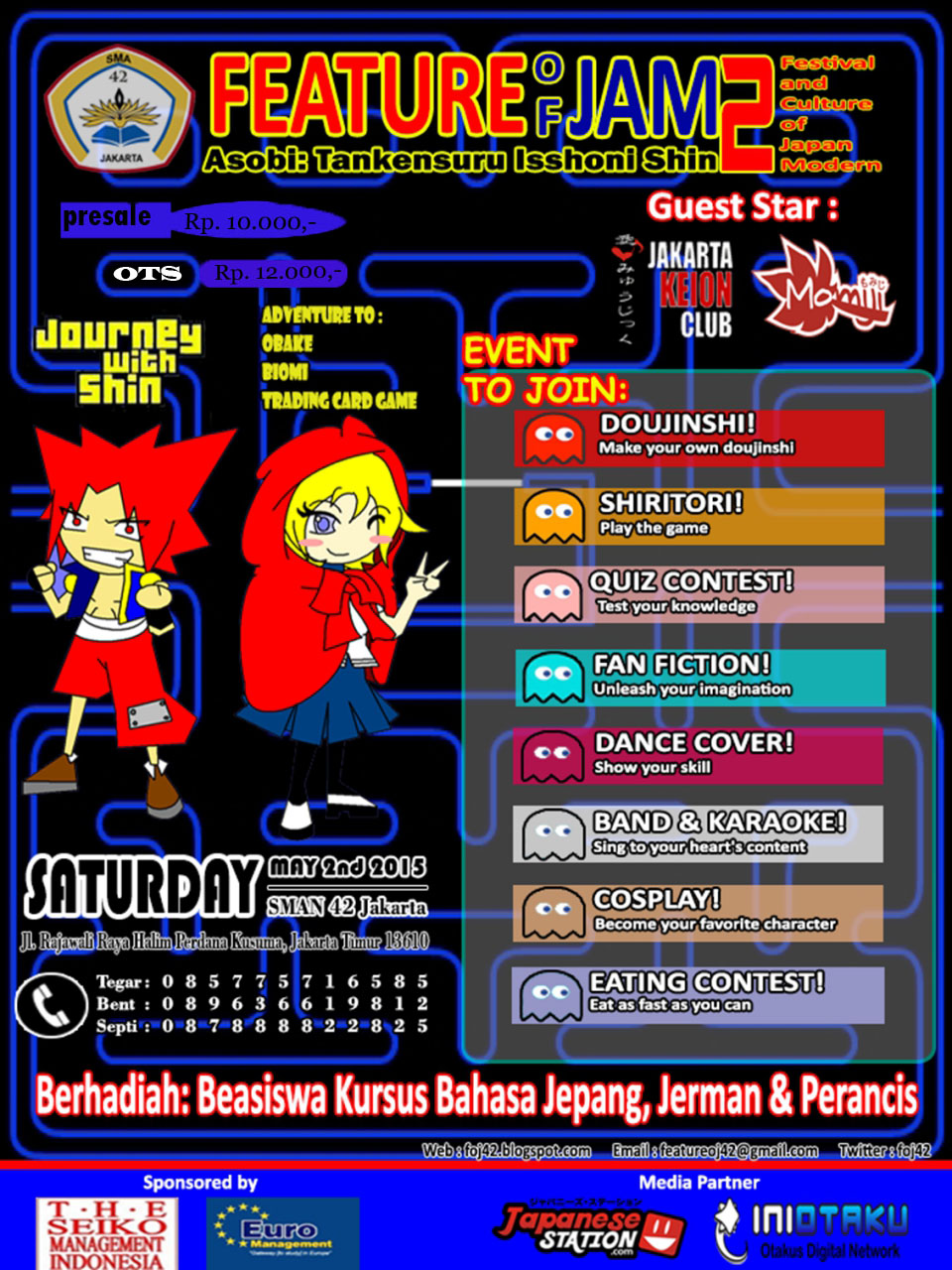 Minna, akhir pekan nanti datang yuk ke acara Feature of Jam 2 – Asobi: Tankensuru ishhoni Shin!
Ekskul Jepang SMAN 42 PROUDLY PRESENTS ~
✿ FEATURE of JAM 2 "Asobi: Tankesuru Isshoni Shin" ✿
DATE : 2nd of May, 2015
PLACE : SMAN 42 Jakarta Timur
[Open registration : 13 – 28 april 2015]
Lomba yang dapat diikuti:
Doujinshi (Smp, Sma & Mahasiswa)
Shiritori (Smp & Sma)
Cerdas Cermat (Smp & Sma)
Fan Fiction (Smp, Sma & Mahasiswa)
Dance Cover (Smp, Sma & Mahasiswa)
Karaoke / Band (Semua kalangan)
Cosplay (Semua Kalangan)
Makan (Semua kalangan) [Daftar di tempat]
HTM:
Presale: 10k
On the spot: 12k
Di acara ini ada banyak kemeriahan, seperti:
– Obake
– Biomi
– Stand
– Penampilan kebudayaan Jepang
– Penampilan GuestStar (Momiji Band & Jakarta Keion Club)
– dll
Formulir pendaftaran dan persyaratan lomba dapat diunduh dan dilihat di foj42.blogspot.com
Selain lomba akan ada stand makanan dan kebudayaan Jepang, dan bioskop mini, serta obake atau rumah hantu!
Spoiler: Lombanya berhadiah Beasiswa les bahasa loh!
Facebook: https://www.facebook.com/FEATURE.of.JAM.42?fref=ts
Twitter: @featureofjam42
Cp:
Tegar 0857 7571 6585
Bentar: 0896 3661 9812
Septi: 0878 8882 2825
Jangan lupa ya, catat tanggalnya, luangkan waktu kalian, dan ajak juga teman-teman kalian supaya semakin seru!