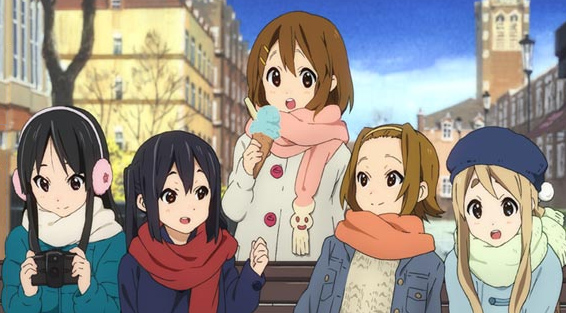 TSUTAYA adalah rantai toko dan penyewaan DVD/BD dan CD terbesar di Jepang. Setiap tahunnya mereka merilis peringkat untuk judul anime/film animasi dengan jumlah penyewaan dan penjualan terbanyak. Untuk tahun 2012, judul anime/film animasi yang paling disewa adalah film ke-17 produksi Studio Ghibli berjudul From Up on Poppy Hill. Di sisi lain, penjualan terbaik judul anime DVD/BD toko tersebut diraih oleh anime K-ON! The Movie, yang di kategori penyewaannya meraih  posisi ke-9. setelah rilis teaternya pada bulan Desember 2011 lalu, DVD/BD anime ini dirilis pada tanggal 18 Juli 2012.
Di bawah ini adalah 30 Besar peringkat penjualan DVD/BD untuk judul anime/film animasi (1 Januari – 31 Desember 2012).
1. "K-ON! The Movie"
2. "Fate/Zero Blu-ray Disc Box" 3. "ONE PIECE Log Collection" 4. "Nisemonogatari" 5. "Mobile Suit Gundam Unicorn" 6. "Persona 4" 7. "Code Geass Collection DVD-BOX" 8. "From Up on Poppy Hill" 9. "Chunibyou Demo Koi ga Shitai!" 10. "K" 11. "Cars 2" 12. "Detective Conan: The Eleventh Striker" 13. "Mobile Suit Gundam Seed HD Remaster Blu-ray Box" 14. "Naruto Shippuden: Blood Prison" 15. "Gintama" 16. "Fullmetal Alchemist: The Sacred Star of Milos" 17. "Kung Fu Panda 2" 18. "Sword Art Onlne" 19. "Sengoku Basara – The Last Party" 20. "Hatsune Miku: Miku no Hi Daikanshasai" 21. "The Prince of Tennis: Tennis no Ouji-sama Eikoku-shiki Teikyu-jou Kessen!" 22. "Kuroko's Basketball" 23. "Kamiusagi Rope tsuka, Natsuyasumi Rasuichi tte Maji ssuka!?" 24. "Tari Tari" 25. "Little Busters!" 26. "PSYCHO-PASS" 27. "Space Battleship Yamato 2199" 28. "Tokyo Disney Sea Magical 10 Years Grand Collection" 29. "Bakemonogatari Blu-ray Disc Box" 30. "My Neighbor Totoro"   source : rbbtoday.com via crunchyroll.com