Desain karakter anime lengkap dari para karakter utama dari film anime Boruto: Naruto the Movie telah diungkap di edisi ke-27 dari Weekly Shonen Jump. Film tersebut dijadwalkan akan diputar perdana di Jepang pada tanggal 7 Agustus.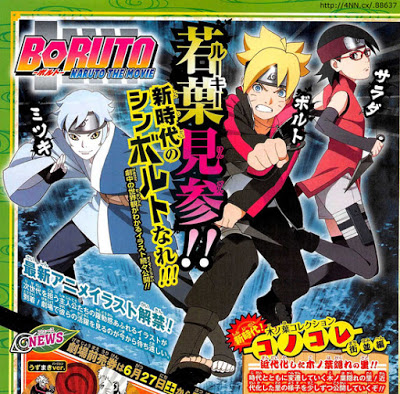 Seperti dilansir dari orendsrange.com, karakter-karakter yang telah diungkap tersebut adalah Mitsuki (kiri), Boruto Uzumaki (tengah), dan Sarada Uchiha (kanan). Mitsuki pertama kali muncul di mini-seri spin-off Naruto: The Seventh Hokage and the Scarlet Spring.
Alur cerita dalam film ini menampilkan putra Hokage ke-7, Boruto yang menolak ayahnya dan ingin melampauinya. Ia kemudian bertemu dengan teman dan rival ayahnya, Sasuke, dan meminta untuk menjadi muridnya?!
Naskah untuk film ini ditulis oleh pencipta serial aslinya, Masashi Kishimoto, yang juga menangani desain karakter, dan menjabat sebagai kepala pengawas produksi filmnya. Boruto: Naruto the Movie diarahkan oleh sutradara dari Naruto Shippuden, Hiroyuki Yamashita, sedangkan Ukyo Kodachi (Chaos Dragon) turut membantu Kishimoto dalam menulis naskahnya.
---
Source : orendsrange.com

Comments