Masih ingat dengan Anohana? Tahun ini Fuji TV akan menyiarkan sebuah acara khusus televisi live-action yang dibuat berdasarkan anime Anohana: The Flower We Saw That Day. Acara khusus televisi live-action ini akan dibintangi oleh Nijirou Murakami, yang merupakan putra tertua dari aktor Jun Murakami (41 tahun) dan penyanyi UA (43 tahun). Sebelumnya, di film horor garapan Takashi Miike, As the Gods Will, dan film Still the Water (Futatsume no Mado), aktor berumur 18 tahun ini juga pernah muncul.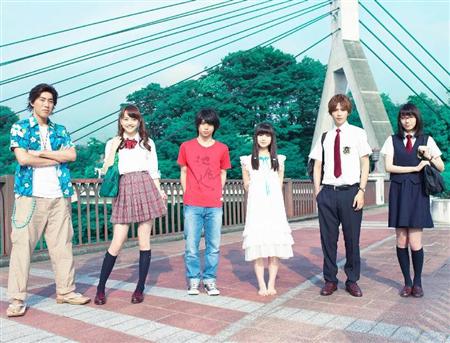 Seperti dilansir dari animenewsnetwork.com, selain Nijirou Murakami, acara khusus televisi live-action ini juga menampilkan para anggota dari klub "Super Peace Busters" yang dibintangi oleh (dari kiri ke kanan pada foto di atas) Yuuta Takahata yang berumur 21 tahun (The Eternal Zero), Airi Matsui yang berumur 18 tahun (live-action Yamada-kun and the Seven Witches, GTO 2014, Hell Teacher Nube), Minami Hamabe yang berumur 14 tahun (live-action Ace Attorney), Jun Shison yang berumur 20 tahun (Ressha Sentai ToQger), dan Marie Ītoyo yang berumur 17 tahun (S -Saigo no Keikan-, Nobunaga Concerto).
Serial anime yang telah menginspirasi manga dan sekuel film anime-nya di tahun 2013 ini bertutur tentang beberapa teman masa kecil yang mencoba untuk terhubung kembali di SMA, setelah terpisah karena tragedi lima tahun sebelumnya.
---
Source : animenewsnetwork.com

Comments