Film terbaru yang dibintangi Jun Matsumoto dan Kasumi Arimura, Narratage akan segera dihadirkan di bioskop Indonesia oleh Moxienotion.
---
---
Disutradarai oleh Isao Yukisada, NARRATAGE diadaptasi dari karya romansa Jepang oleh novelis pemenang Noma Prize Rio Shimamoto. Film ini mengeksplorasi cinta terlarang antara seorang guru SMA dan muridnya. Terlepas dari tema kontroversial novel ini, Narratage tetap menjadi best seller di Jepang, menduduki peringkat teratas Book Magazine (majalah buku) dan peringkat ke-6 di Bookshop Awards pada tahun 2005. Narratage juga dinominasikan dalam Shugoro Yamamoto Awards yang ke-18 .
Kisah Narratage dimulai saat Izumi menerima telepon dari objek cintanya yang tak berbalas – mantan gurunya, Hayama, pada musim semi tahun kedua di universitas. Hayama meminta bantuannya dalam salah satu pertunjukan wisuda juniornya untuk klub drama. Selama masa SMA Izumi, Hayama membawanya keluar dari zona kenyamanannya, dan akhirnya Izumi jatuh cinta padanya. Senang dengan kesempatan tak terduga untuk bertemu dengannya lagi, Izumi merasa dicampur aduk oleh kenangannya dengan Hayama, terutama hari kelulusannya dan sebuah rahasia yang Hayama akui kepada Izumi pada hari itu
Dalam film ini, Jun Matsumoto akan memerankan tokoh Takashi Hayama, seorang guru IPS sekaligus konsultan klub drama SMA, sementara Kasumi Arimura akan berperan sebagai Izumi Kudo, yang dulunya adalah murid SMA yang kesepian, sebelum gurunya Hayama membawanya ke klub drama, dalam usaha untuk mengeluarkannya dari cangkangnya. Dia akhirnya jatuh cinta pada Hayama, namun tidak berbalas.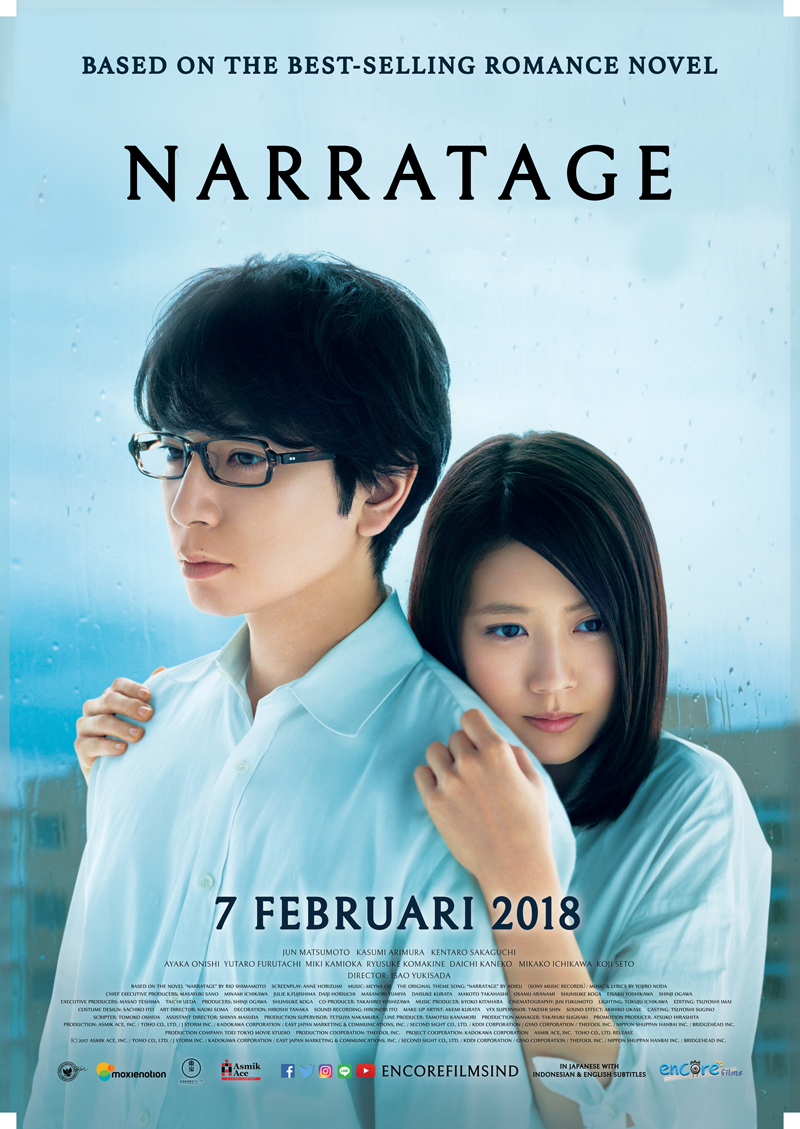 Adaptasi dari novel terlaris ini telah direncanakan selama 12 tahun. Sutradara Yukisada, yang terkenal dengan karyanya yaitu film yang diadaptasi dari CRYING OUT LOVE IN THE CENTRE OF THE WORLD, tertarik pada sudut yang tidak konvensional yang digandrungi novel ini – yang menggambarkan keinginan seorang gadis muda dan bagaimana feminitasnya terangsang oleh laki-laki dewasa.
Film romantis berdurasi 140 menit ini akan mulai diputar di Indonesia pada 7 Februari 2018 mendatang. Jangan ketinggalan menyaksikan adegan-adegan romantis antara MatsuJun dan Kasumi Arimura di film ini, ya!