Bab terakhir dari manga karya Masato Isshiki, Battle Spirits Saikyou Ginga Ultimate Zero diserialisasikan di edisi September dari majalah Saikyou Jump terbitan Shueisha pada hari Jumat. Manga ini diangkat berdasarkan serial anime keenam dan terakhir yang terinspirasi dari game kartu Battle Spirits dari Bandai. Serial ini diluncurkan pada September 2013 dan jilid kompilasi keduanya diedarkan pada tanggal 2 Mei.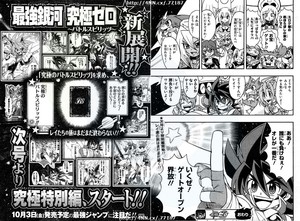 Majalah ini juga mengumumkan sebuah manga Battle Spirits yang baru akan dimulai pada tanggal 3 Oktober. Dalam tulisannya tertulis. "Mereka hanya berharap satu hal dan hal tersebut berada di suatu tempat di alam semesta ini. The Ultimate Battle Spirit!! Perjalanan Rei dan kelompoknya untuk mencari 'Ultimate Battle Spirit' belum berakhir! The Ultimate Special Arc akan dimulai di isu selanjutnya!!"
Serial manga yang terkait juga telah diluncurkan pada bulan September 2013 dan episode ke-42 nya telah ditayangkan pada hari Minggu.
Waralaba anime Battle Spirit diluncurkan dengan 50 episode serial Battle Spirits: Shounen Toppa Bashin pada tanggal 7 September 2008. Anime-nya mengadaptasi trading card game asli Bandai, di mana kartu-kartu tersebut melambangkan naga, iblis, burung, serangga dan roh lain yang para pemain bisa kendalikan dalam semua pertandingan. Bandai mengimpor permainan ini ke Amerika pada tahun 2009.